Hello & Welcome to the first edition of Monday News for this month! I hope you had a great week-end and that you are ready for this one. Grab a cup of Tea and let's get into our spicy news!
• LEC:
Week 2 of the LEC was unexpected for a lot of teams, MAD Lions made a huge improvement compared to the last week they finished this week with a victory over Excel Esports, they also played a huge game against Fnatic where everyone wasn't expecting them to win and finish this week with a score of 2-0, they are now sharing the third position with FC Schalke 04.
G2 Esports stomped Astralis with a huge diff in every lane, but it was interesting seeing Astralis putting a good fight against them but at the end of this week, G2 struggled against FC Schalke 04! Was this a disrespect from them? or a miscalculation? Anyway, it doesn't matter because that cost them the whole game and finished with a score of 1-1. They are now holding the second position of the LEC 2021 Spring Standings.
Meanwhile, at the top of the leaderboard, we can see Rogue secured their first spot. At least for now! They played really well this week, Rogue faced both Misfits Gaming and Team Vitality and won with clean gameplay.
Everyone expected G2 to finish this split undefeated but they handled that dream to Rogue. Now Rogue is 5/0 with a 100% win rate and strong boost confidence. Fnatic is 5th sharing the position with Excel Esports meanwhile at the end of the standings Astralis and Team Vitality are last with a score of 1/4 and a 20% win rate.
• LCK:
In LCK, they are already at Week 3! They played for the first time in patch 11.2 where a lot of changes were made. But that didn't hold them down, T1 won their first game of the week against Liiv SANDBOX with a score of 2-0 but that wasn't enough to bring back their confidence because at the end of the week they lost to their old teammate "BANG" who is currently playing in Afreeca Freecs.
A lot of T1's fans are frightened about the current state of the organization especially that their next game is against Nongshim Redforce.
The one and only DWG KIA are still holding first place with a score of 5-1 and an 83% win rate, they faced Gen.G and Hanwha Life Esports but that wasn't enough to bring them down. Gen.G is considered as a scary team but against DWG they're not, Gen.G is currently 2nd sharing this position with Hanwha Life Esports and DRX.
At the start of Week 4, we will be seeing Gen.G against DRX this will be a battle for second place. T1 will also be facing Fredit BRION, the team that miraculously won against DWG KIA!.
• LPL:
Let's talk about this region, the LPL shall we?
Starting with EDward Gaming they are currently sharing the first spot with Royal Never Give Up the team that everyone forgot since the departure of UZI. FunPlus Phoenix is third with a score of 5-1 and an 83% win rate, they played really well during this week but in week 5 they will face a lot of challenges. One of them is Top Esports a team that's currently holding 6th position with a score of 3-2, this team is supposed to be one of the top at this LPL 2021 Spring but sadly they seem to be lacking some sort of communication or maybe the problem is coming from the draft.
Suning is currently struggling like T1, they still didn't perform the way the fans are waiting for! They are classed 10th with a score of 2/3 and a 40% win rate! Their next game will be against LGD and the favorite team to secure the first spot in this LPL 2021 Spring, I'm talking about EDward Gaming, maybe this week we will notice a lot of changes.
• LCS: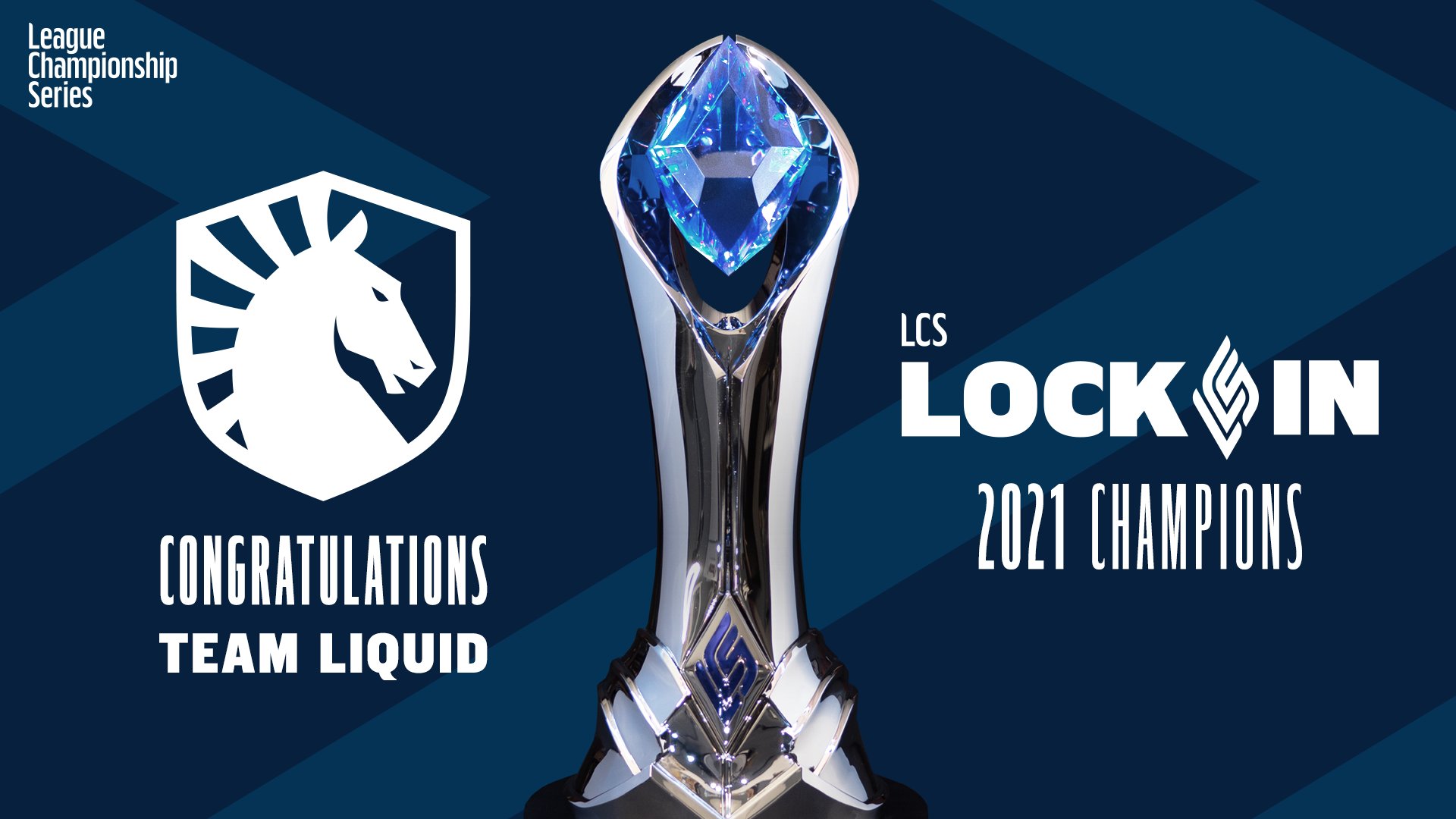 You already know what am going to talk about! The LCS LOCK IN 2021 CHAMPIONS. Yesterday we witnessed an insane Best of five between two legendary teams in North America, Cloud 9 & Team Liquid. Every fan was ready for this final, their journey was quite long but they definitely reached the end of this new system that the LCS presented to us.
Team Liquid is a big team with experienced players, Alphari played really well and showed everyone the real strength of an EU toplaner. But before talking about that let me share with you the final score of this insane best of five, Team Liquid won with a 3-2 against Cloud9. Before the start of this BO5, everyone expected Cloud 9 to take the win and close the series with a clean game but things didn't go as planned for C9 fans because Perkz didn't really perform as he always did with G2 Esports, maybe this is due to the coach difference? Or maybe this is why he left G2 because he is not performing well anymore.
Anyway, in the end, Team Liquid are the champions they won a total of 150,000$ US Dollar. In the second position, we have Cloud9 and just after them 100Thieves and Evil Geniuses are sharing 3rd and 4th position, none of these teams are going to win any cash prize but Team Liquid will also receive an extra 50,000$ US Dollar for the charity of their choice.