Good morning and welcome to the first edition of this Monday News but this one is special! It's a late one, so make sure to get comfortable because we have a lot to talk about, things really got intense this week, and don't forget to bring some coffee to enjoy this article.
Global News
League of Legends latest jungler, Viego, is still causing a lot of problems and bugs in many ways, so he won't be enabled for the next week of the LEC.
According to League Of Legends Charts, #KDA music has now over 1 Billion listeners combined streams on YouTube and Spotify.
Several people in the VALORANT Talent scene accused "Pulse Arena" of not paying the freelancers who worked at the "Pulse Arena Invitational".
The organizers "Nerd Street Gamers" reached out to the talents and paid the amounts owed by "Pulse" all of this is according to Valorant caster "Vansilli".
Udyr is planned to be the champion that will be reworked in Riot's upcoming projects.
Valve's gaming platform steam surpassed 26.4 million users breaking their previous record of 25.4 million.
The OCE Region is returning to the world of competitive League with the all-new tournament.
The Wild Rift SEA will be a huge foundational step to evolve the esports scene for the MOBA game in the region.
Fox Gaming made a move by changing the icon of their socials with a glitch. Was that a sign of a comeback? Or the end for this beloved organization?
Europe – LEC
You already know what this is about! I will definitely start with EL CLASSICO between two legendary organizations who showed us a huge performance during all these years. Fnatic against G2 was one of the best games so far this year at the LEC. Everyone expected high-quality gameplay and a stomp from the one and only Rekkles against his previous team Fnatic but that didn't quite work out for him, Fnatic finished this week with a score of 2-0 they are now holding the 4th position at the LEC 2021 Spring Standings.
What an insane Classico, G2 Esports were lost on the rift or maybe they just disrespected their opponent and didn't take them seriously. This is the second game that G2 lose this split and against their worst opponent. Will this game break their mind knowing that Rekkles joined them for one and the only reason is to win everything. There is a quote that says: "If you can't beat them, then join them." 
Rogue is still holding the first position, just behind them, G2 Esports & FC Schalke 04 are sharing second place. Meanwhile Excel Esports, Fnatic & MAD Lions are 4th for now with a score of 4-3 after them we find SK Gaming 7th, Misfits Gaming 8th, and Astralis with Team Vitality fighting for the place of this LEC 2021 Spring.
North America – LCS
The LCS 2021 Spring started with a strong and fun way, we can already see the first two teams who will fight to secure the first place. For now Only Cloud9 & 100 Thieves who didn't lose any game, they seem to be in form with a great laneup and gameplay. Let's hope that they will continue their parcour with this routine, but at the end of the day only one team will remain at the top.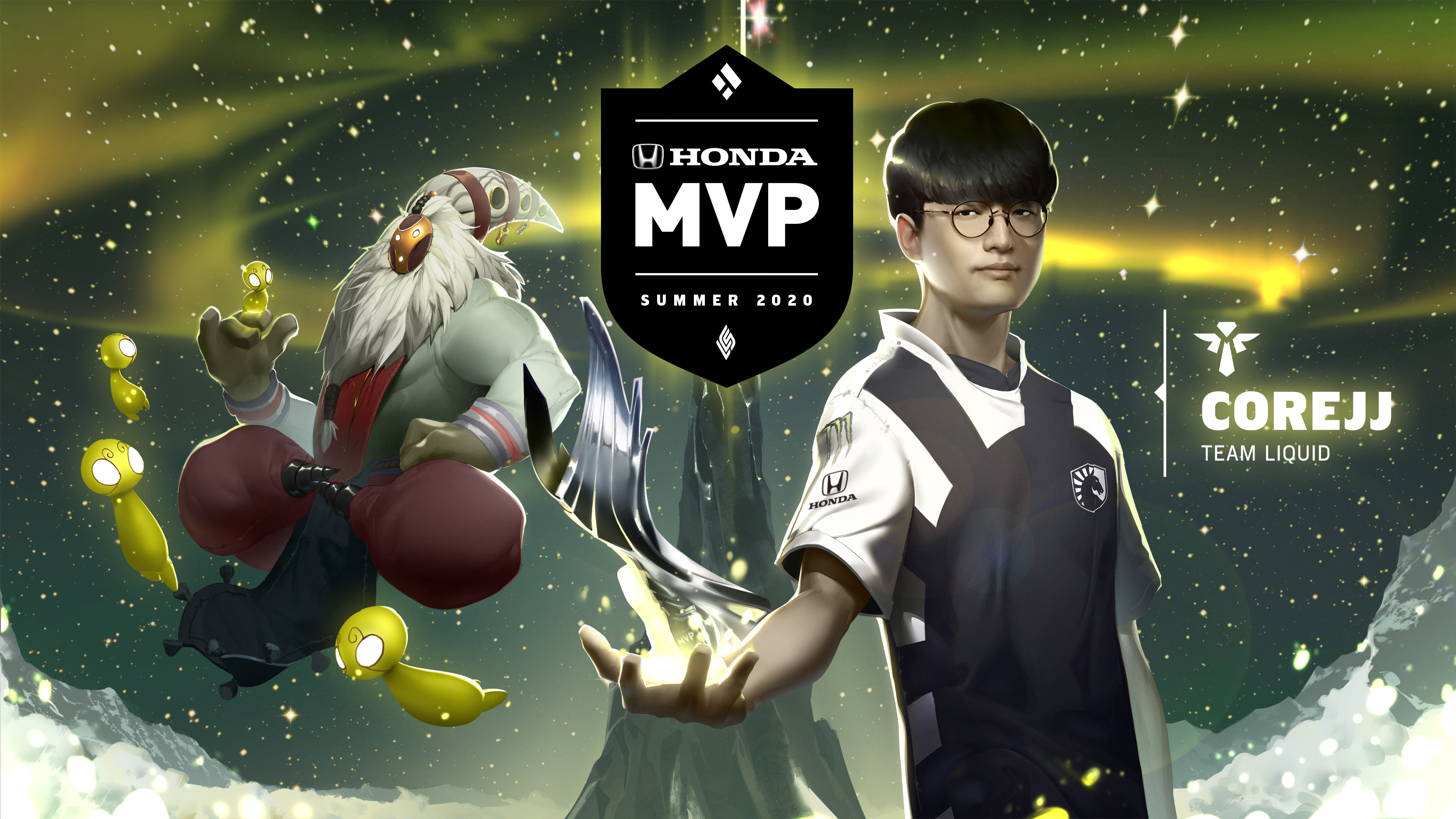 Let's take a look at the 2021 #LCS Spring Split standings at the end of week one:
(1) #100WIN (3-0)
(-) #C9WIN (3-0)
(3) #EGWIN (2-1)
(-) #TLWIN (2-1)
(5) #DIGWIN (1-2)
(-) #FLYWIN (1-2)
(-) #GGWIN (1-2)
(-) #IMTWIN (1-2)
(-) #TSMWIN (1-2)
(10) #CLGWIN (0-3)
Team SoloMid is in a bad spot, at the moment they are holding 5th place with a 33% win rate but It couldn't be worse than Counter Logic Gaming! They are last and they lost every single game so far. Evil Geniuses & Team Liquid are both 3rd and Perkz seems to be in a good form with Cloud9 in this first week but things are not over yet because next week they will face Evil Geniuses, FLY, and the one and only 100 Thieves! This will probably be the match of the week. Who will secure the first place? C9? or 100 Thieves?
South Korea – LCK
Who doesn't watch the LCK and all the famous legendary players in this region? This region is just unbelievable and you can't expect what will happen to any of these teams. While DWG Kia is still holding first place with an insane performance and a 88% win rate (7/1) other teams are still struggling and fighting to reach them. The LCK is already at Week 4 of the competition and things are going fast.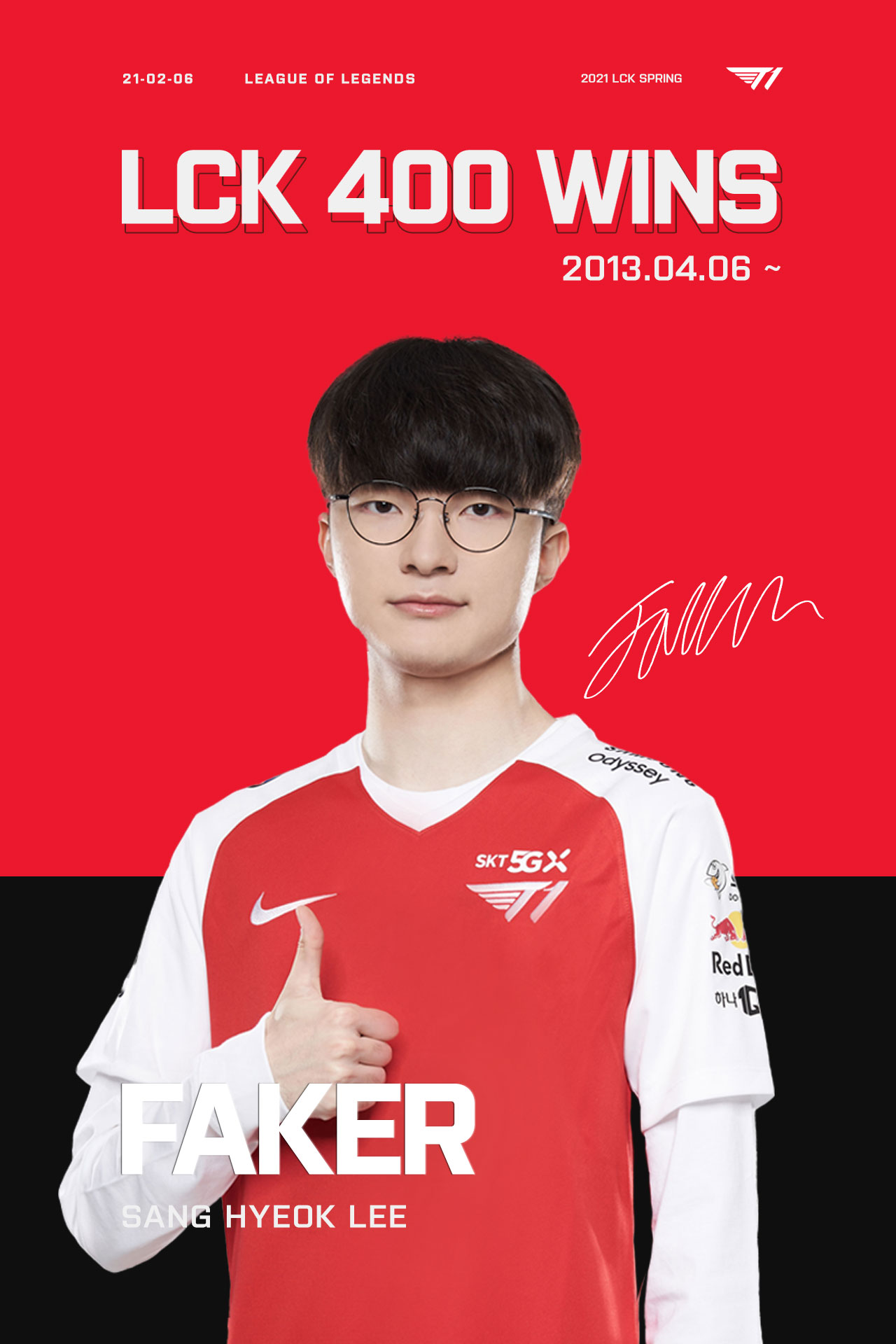 Before talking about the other teams let's mention Faker and congratulate him for reaching his 400th LCK win and more. Since we are talking about Faker let me share with you T1's result for this week. Actually, they are doing well compared to the previous weeks! They finished this week with style, a clean 2-0. They faced NS as you all already probably know because I already writed an article about it and their second game was against BRO where it ended 2-0 in favor of T1 they are now holding the 5th position with a 50% win rate.
Gen.G & Hanwha Life Esports are still sharing second place with a score of 5-3 and a 63% win rate, just behind them we find DRX who had a chance earlier last week to climb the leaderboard but didn't take it because DWG Kia was too strong for them at least for now. Kt Rolster showed their dominance against Afreeca Freecs and secured 6th place. Fredit BRION is still last with Liiv SANDBOX.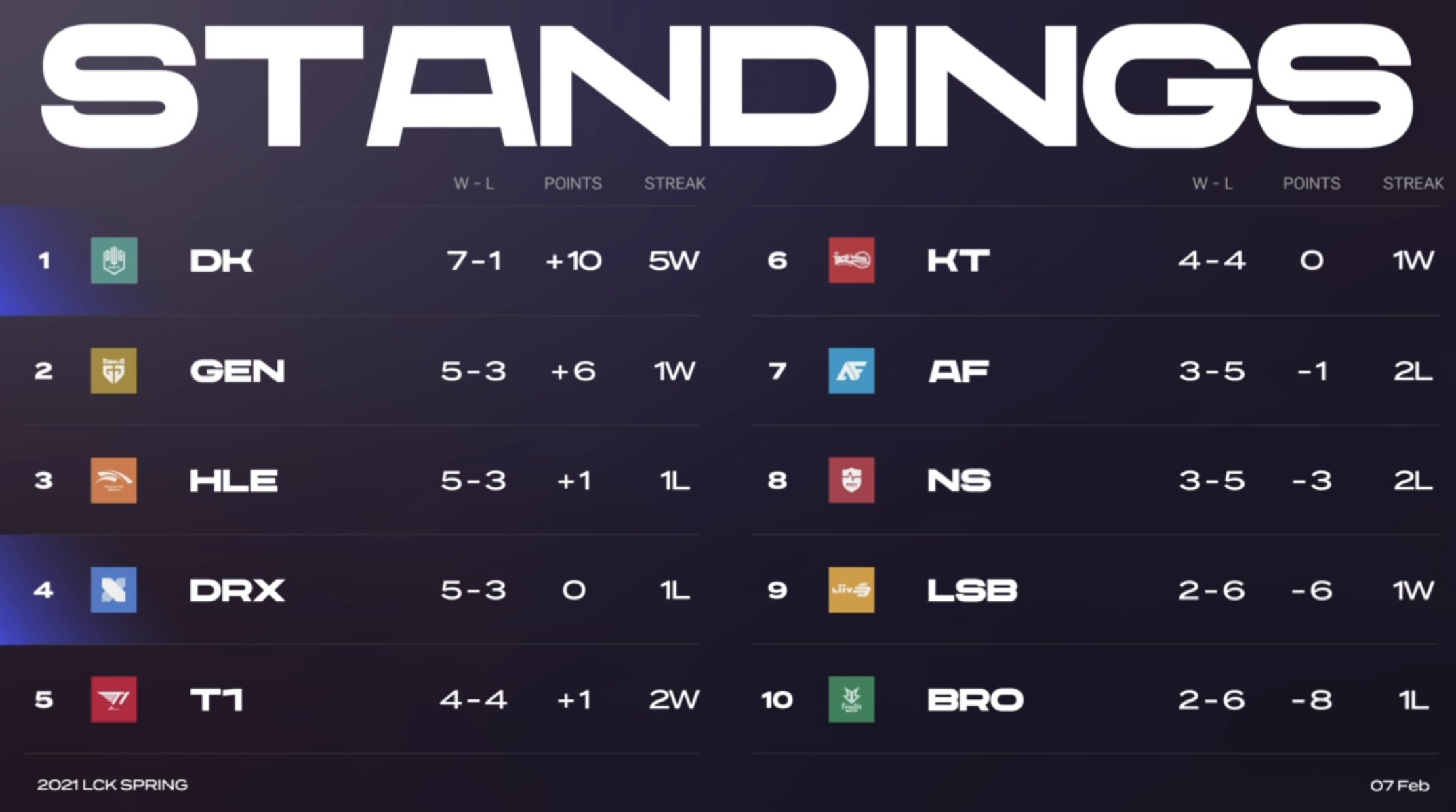 Let's take a look at the POG Point standings after 4 weeks of plays! There is still a chance for other player to reach the top 5 so don't worry about it.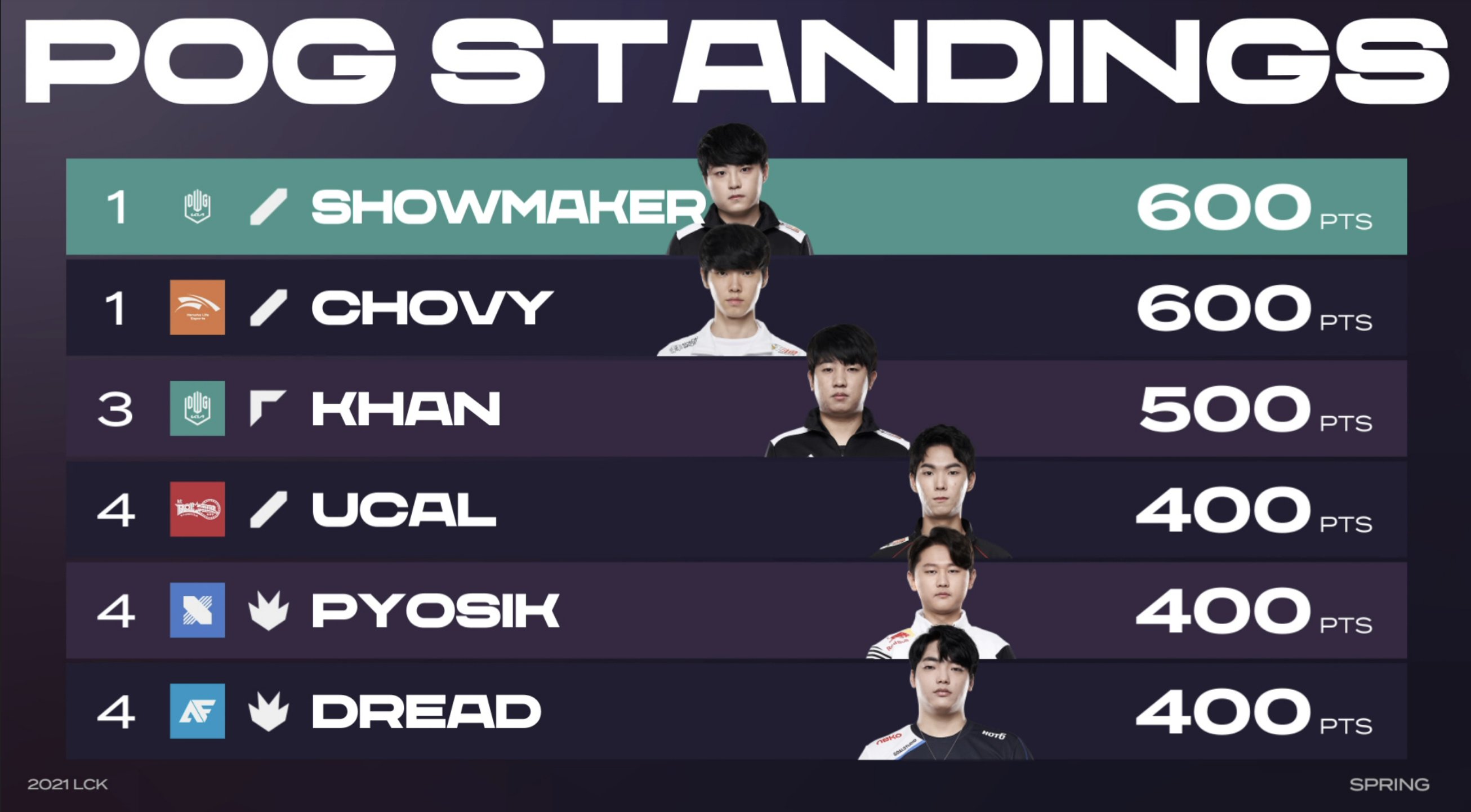 North Africa – Morocco
The Black Lotus showed us a huge improvement during this Continental Grand Finals and their victory was deserved! Props to all the organizations and especially the players for showing their true straight against the Tunisians. The Grand Final was once again against the one and only Majesty Black who wanted revenge because they trusted themselves too much since that game where they crushed TBL 2-0. For TBL that was a big lesson that gave them a goal to reach and a motivation to tryhard more than ever and to represent their country! Knowing that the whole fan base was behind them, and that's what happened they won with a score of 3-1. Congratulations to them.