Good morning and welcome to another article of Monday News! At least this one will be on time, so make sure to get comfortable and don't forget to bring some coffee to enjoy this article. If you are ready, let's get into it!
Global News
Fox Gaming will make multiples announcements during this week about their next plans.
Mirai is performing well at the PRM 1st Division. TT Willhaben is now sharing the first position with Flayn eSports & Cowana Gaming.
Mehdi "Dreamerz" Farah was the winner of "Casa Clash" a tournament of League of Legends organized by MGE & Inwi.
The 2021 season saw a huge rise in viewership at the LEC versus a drop in the LCS for the North American league.
Another tournament is coming for the MENA region! Called "League" by Arab Esports with a cash prize of over 1400$ US Dollar.
T1 takes a huge decision by firing both Brax & Azk from their Valorant roster.
A "fun" tournament is also on the list for the MENA influencers organized by Telecom Egypt & BME eSports with a total of 3000$ US Dollar as a cash prize. (Raiizow & Momokohyhy are the only Moroccans in this tournament.)
Europe – LEC
The LEC! It's where the magic happens. Last week we had some interesting stuff going on, the game was played in Patch 11.3 and as a result, Team Vitality secured the last place in this LEC 2021 Spring Standings at least for this week… and It's looking bad for them! Let's hope they can step up next week. Anyway, ASTRALIS played an insane game against FC Schalke! A team that was supposed to compete for the first place but weirdly struggles against AST. This game was the redemption for Astralis and MagiFelix, I can't wait for the AST vs FNC. For those who don't know MagiFelix was playing in the Academy of Fnatic and instead of bringing him to the main roster, they took Nisqy.
Since we are talking about Fnatic, let's discuss their 2-0 this week against SK & XL. Their first match was good with a nice synergy in the whole team, they sent SK to the 7th position with a score of 4-5 and a 44% win rate but their second game against XL resulted in a remake because of the combination of Samira and Guardian Angel which caused a bug in their game. Game 4 of Week 4 Day 2 was originally scheduled to be FNC vs XL however a failed chronobreak meant that the game was remade and moved to the last game of the day.
G2 Esports & Rogue are still sharing the first position with a score of 7-2 and a 78% win rate, just behind them, we find Fnatic in 3rd position with a score of 6-3 and Excel Esports 4th with FC Schalke and MAD Lions with a score of 5-4 and 56% win rate! Next week will definitely make everything clear. Misfits Gaming is 8th and Astralis are always 9th with a score of 2-7 but this is not the end for them. With their new midlaner "MagiFelix" everything can happen now, so you better keep an eye on this team.
North America – LCS
The LCS 2021 Spring is just a whole other story, this region is fun, and can't expect what will happen. Last week was their second and they played it in Patch 11.3 like everyone else. TSM did an insane run where they finished 3-0 this week! Congratulations to PowerOfEvil on winning the MastercardNexus player of the Week for week 2 of the 2021 LCS Spring Split.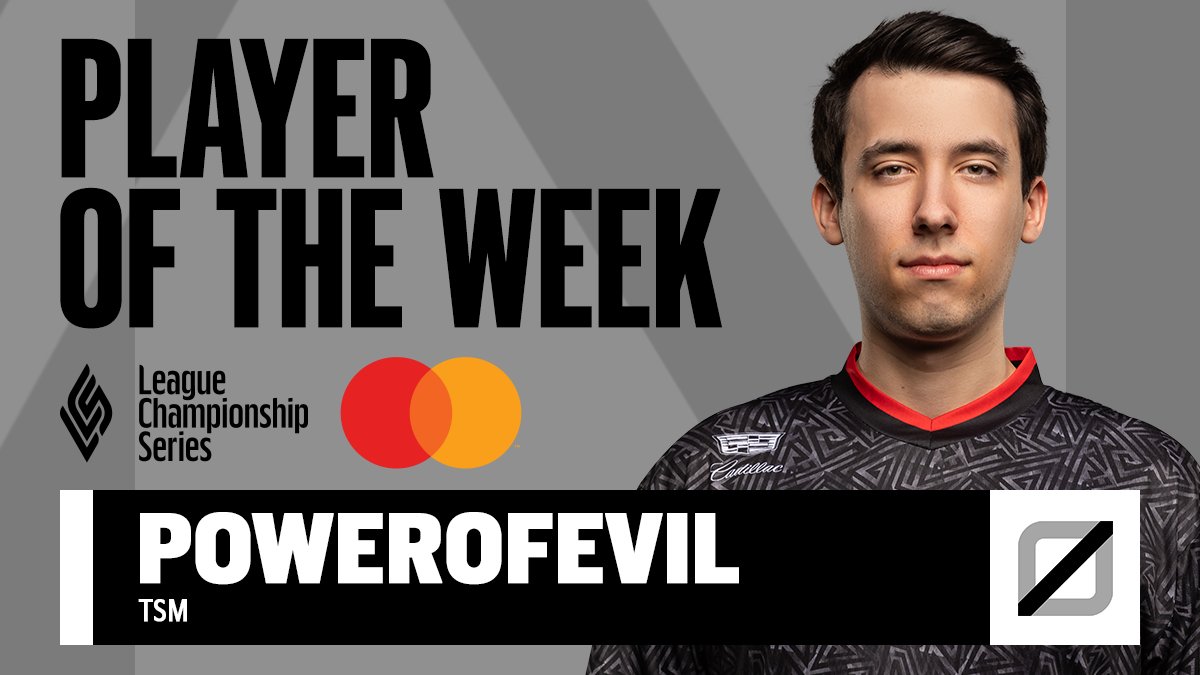 Let's take a look at the 2021 #LCS Spring Split standings at the end of this week two:
(1) #100WIN (5-1)
(-) #C9WIN (5-1)
(3) #DIGWIN (4-2)
(-) #TSMWIN (4-2)
(5) #EGWIN (3-3)
(-) #TLWIN (3-3)
(7) #FLYWIN (2-4)
(-) #IMTWIN (2-4)
(9) #CLGWIN (1-5)
(-) #GGWIN (1-5)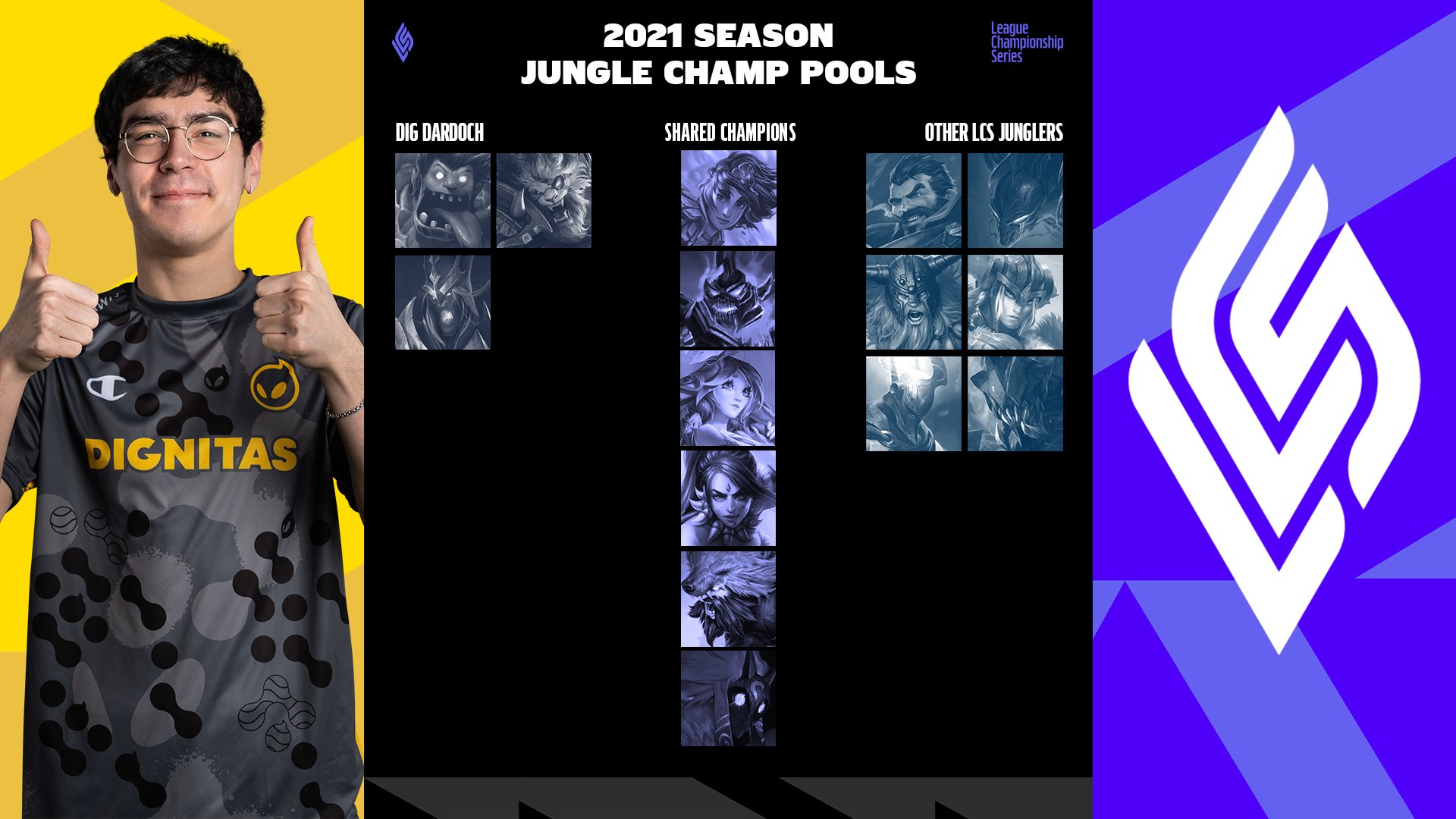 Team SoloMid finally found their synergy, the same thing for Dignitas! Dardoch is on fire these days, DIG won against IMT, GG, and EG which proved that they deserve to be in the top 3 most powerful teams for this season. Golden Guardians are still struggling last on the leaderboard with a score of 1-5, same thing goes for Counter Logic Gaming. They need to find a solution for their messy plays asap if they still wanna compete among the best teams in NA. Evil Geniuses and Team Liquid are both sharing 5th position they will need a lot of strength and motivation if they wanna finish next week with a clean 3-0 because it's not gonna be an easy task for them.
North Africa – Morocco
There is nothing much to share about Morocco besides the "Casa Clash" that ended last week. I wanted to let you know that there is an event called #lGamingAward where you can vote for the best person in each category for 2020. I'm participating in the "Content Creator" category if you guys wanna vote for me just follow this link or click on the picture! https://vote.lgamingawards.com/​
There is also another category called "Best Male Streamer" and for me, there is only one that deserves this title and it's "Shaké" A streamer known in the Moroccan Community especially in the gaming one he mainly plays League of Legends and does podcasts with other streamers debating about all kind of topics. You can vote for him by following this link or just click on the picture! https://vote.lgamingawards.com/profil/Ismail%20alaoui/153
There are also three more categories but I won't be discussing them since everyone has his own opinion and is free to vote for anyone he likes!