Hello everyone, It's been quite some time since my last article but no worries! I'm finally back after a week of rest, I'm ready to go and motivated as ever. In this Monday News we will be talking about a lot of news so just grab a cup of coffee and let's get into it.
Global News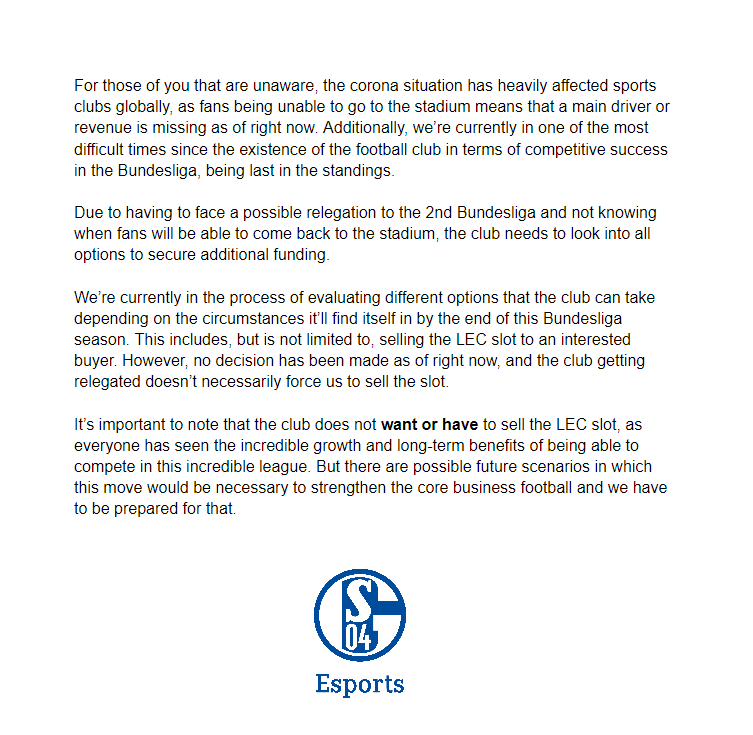 Schalke 04 Esports responded to the recent rumors about them selling their LEC Slot. ⬆️
TT Willhaben still holding first place with a score of 8/4 & a 67% win rate.
Rumors about an incoming Wild Rift tournament for the MENA region.
The winner of "Streamers Clash" a Valorant tournament was the one and only "Cactuzio"
The "Mid Season Invitational" MSI 2021 will be gathering the best teams from each region.
Europe – LEC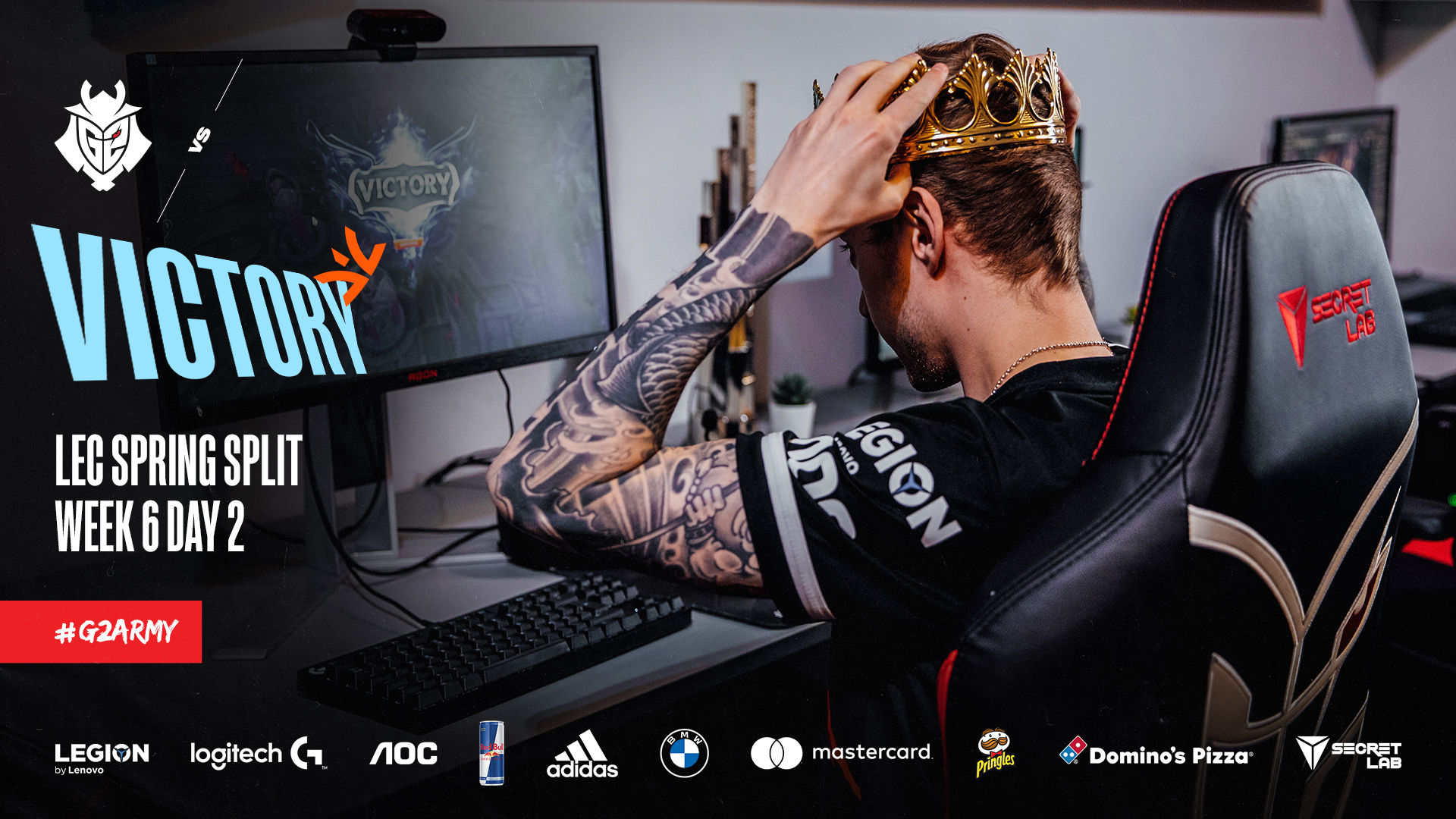 Let's talk about Europe, the LEC! We are already at Week 6 and things are already complicated for some teams, the games were played in patch 11.4 and the same thing will go for week 7.
G2 Esports finished this week with a clean 2-0 and an insane performance from them, they won against Team Vitality even that they did their best but wasn't enough and crushed Fnatic to make things clear, this time both teams were playing with no technical issues. G2 jumped to the rift as if they were on a mission and I can tell you that they were scary. They secured the first spot of the LEC with Rogue who also finished this week 2-0 both teams are 11/2 with an 85% win rate.
Just behind them, we can find MAD Lions & SK Gaming with a score of 8/5 and a 62% win rate, SK Gaming seems to be in a good shape they won their last 5 games and that's a good sign for SK fans. Fnatic is 5th in this LEC 2021 Spring Standings, not what their fans wanted but it's better than nothing! They won against Astralis who is holding 9th position and lost against G2 but no worries their next match will be against SK and will determine if they deserve to go up in the leaderboard or down.
Let's jump into the "Player of the Game" Standings, Armut the toplaner of MAD Lions is sharing first place with Rogue Hans Sama by getting 5 times the MVP of the game just behind them there is Rekkles and Treatz with 4 times MVP and last Larssen with 3 time MVP.
North America – LCS
The LCS 2021 Spring is getting a lot of attention, Week 4 already finished the games were played in Patch 11.4 most of the results were kind of expected but not all of them! Cloud9 is still at the top of the leaderboard with a score of 10/2 and an 83% win rate. We can call this a domination of the LCS by them. Congratulations to Blaber on winning the MastercardNexus Player of the Week for week four of the 2021 #LCS Spring Split!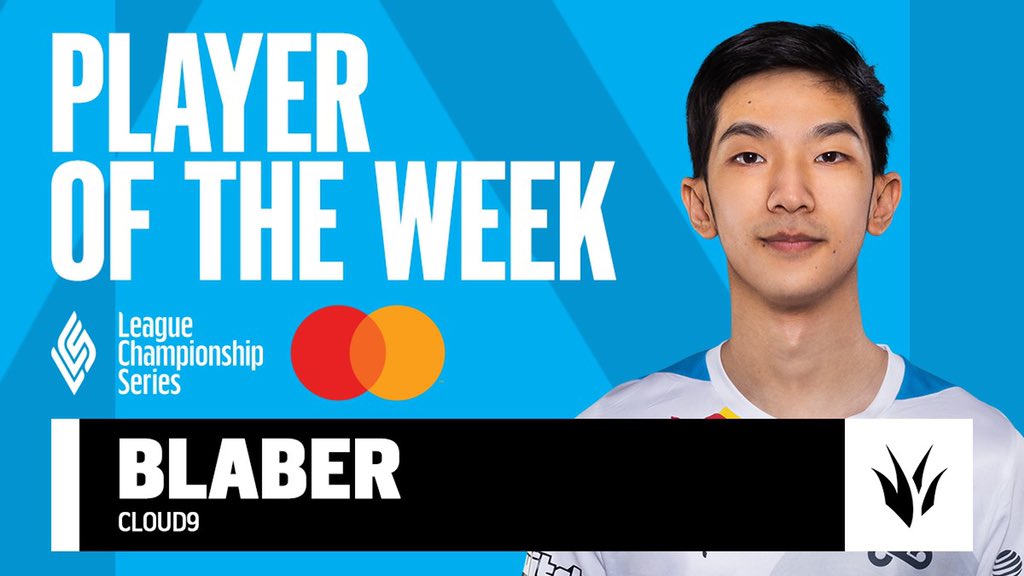 The 2021 #LCS Spring Split Standings at the end of week four:
(1) #C9WIN (10-2)
(2) #100WIN (8-4)
(-) #TSMWIN (8-4)
(4) #DIGWIN (7-5)
(-) #EGWIN (7-5)
(-) #TLWIN (7-5)
(7) #IMTWIN (5-7)
(8) #FLYWIN (4-8)
(9) #CLGWIN (2-10)
(-) #GGWIN (2-10)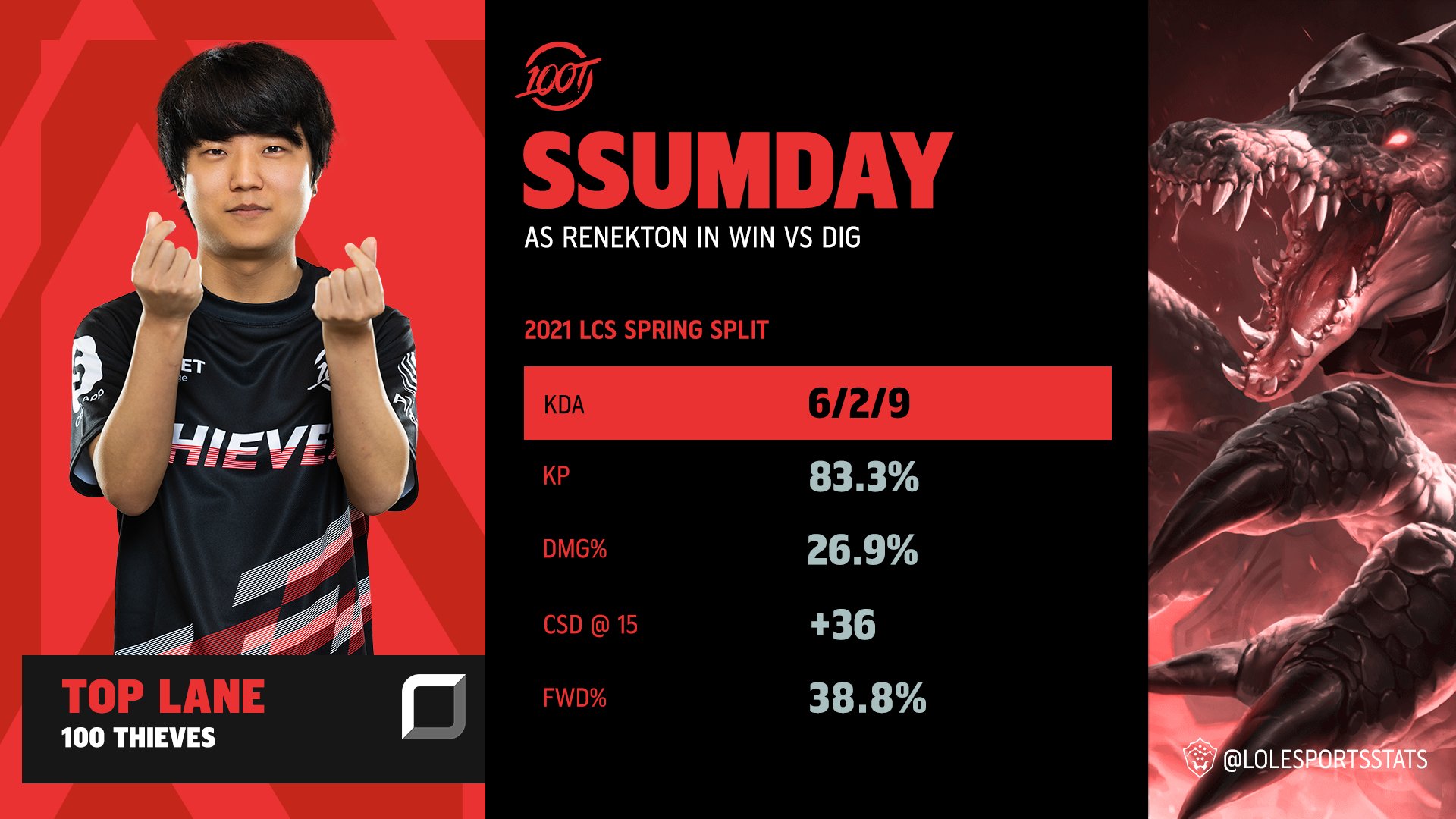 100 Thieves are still holding their breath and sharing second place with TSM with a score of 8/4 with a 67% win rate, just behind them there is Dignitas who finished this week 1-2, not the best score everyone wanted from this team. Evil Geniuses and Team Liquid are also on the right side of the track they both won their last games, but on the other side of the leaderboard, Counter Logic Gaming & Golden Guardians are in a bad spot. They are both sharing the last place with a score of 2/10 and a 17% win rate for the first time in their lives.
South Korea – LCK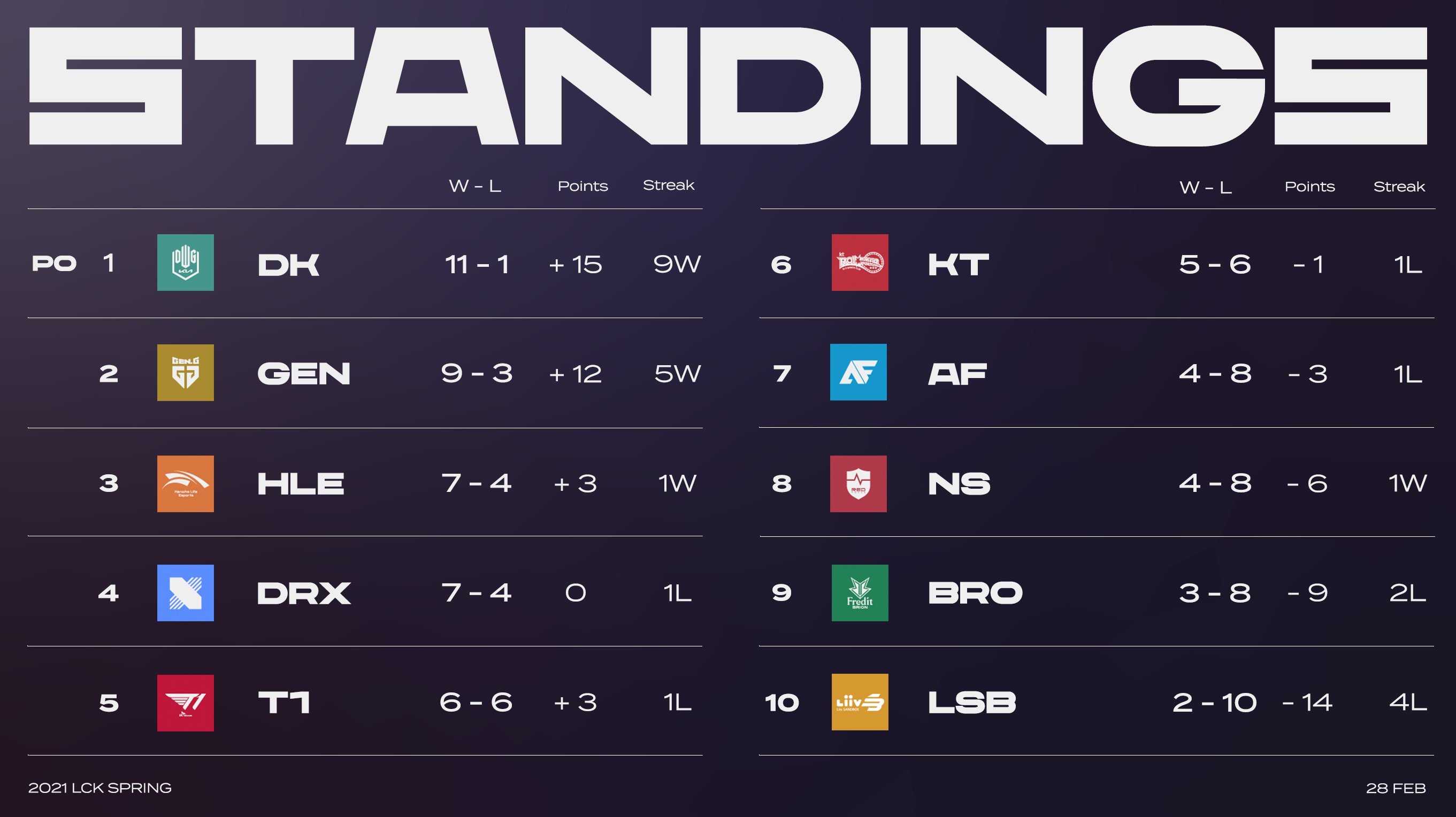 Those are the team standings in the LCK after 6 weeks of play! DWGKIA were able to secure their playoff spot this week, do you think T1 can do the same after their run? Gen.G are second with a score of 9/3 and a 75% win rate just behind them there is Hanwha Life Esports and DRX who is right now 4th and just behind them the only team that has a 50% win rate T1 they struggled a lot at the start of the split but right now they seem to be in a good shape even after they lost against DWG.
Effort's team is still struggling, Liiv SANDBOX secured the last place of the LCK with a score of 2/10 this team needs to win a game as soon as possible to break their 4 loose streaks and get back on the track, just in front of them we find Fredit BRION a lot of fans wanted this team to rise after their win against DWG at the start but they didn't make it, it wasn't enough to bring other teams down
Morocco – Awards
Lgaming Awards 2021 Ceremony announced the results of the Awards Ceremony.
Esport Player of the year: EL Chapo
Female Streamer of the year: LULULUNA
Best Esports Team of the year: Fox Gaming
Best Content Creator of the year: Heroshima
Best Male Streamer of the year: PSIKO
ABRAMI Family
Abrami Family is a place where only the best are gathered. This group is dedicated to all the Abrami family and will be used for all different things from streaming to fun events, most of you already know, but this group will unify both fun, skills and will make sure to let you have knowledge for improvement because this is ABRAMI and it only means one thing, to be real and to stand together. The group will be available soon so stay tuned.