Welcome to another edition of Monday News where I will be sharing with you a lot of interesting and spicy news. I hope you had a wonderful weekend and that you are ready and fully charged to start this one with positive vibes and new goals on your mind. Don't forget to bring your cup of coffee, enjoy reading.
Global News
Let's start with some rumors and global news that are trending in the ESports community.
League of Legends Live: The orchestra – The concert will be the first show in Korea/Seoul presented by Riot Games and it will be done by one of the most famous orchestras there.
Rumors are saying that the next champion will probably be a Toplaner.
Since his release on January 21, Veigo will remain disabled because of the issues that he is facing but there is a "chance" that he will make his debut in the playoffs.
League's next event will include Space Groove skins. (Could be One for All mode)
TT Willhaben is sharing first place with Flayn eSports in the Prime League 1st Division.
Rumors about former Fox Gaming Toplaner Senyu returning to the MENA scene but this time with a Tunisian team. (Majesty?)
Former eGz Toplaner 9eeto & Jungler Monkey750 will join KnockOut.
Shield Esports made a new rebrand and they seem ready to fight.
IAC season 2 is live, with only 10 more days to participate in this huge tournament. (I will make another article about it)
Europe – LEC
Most of the regions already finished their regular season, and it is the case with Europe. The LEC is just on another level, for those who didn't miss any game they will understand what I'm talking about, but no worries you will soon understand by taking a look at the standings.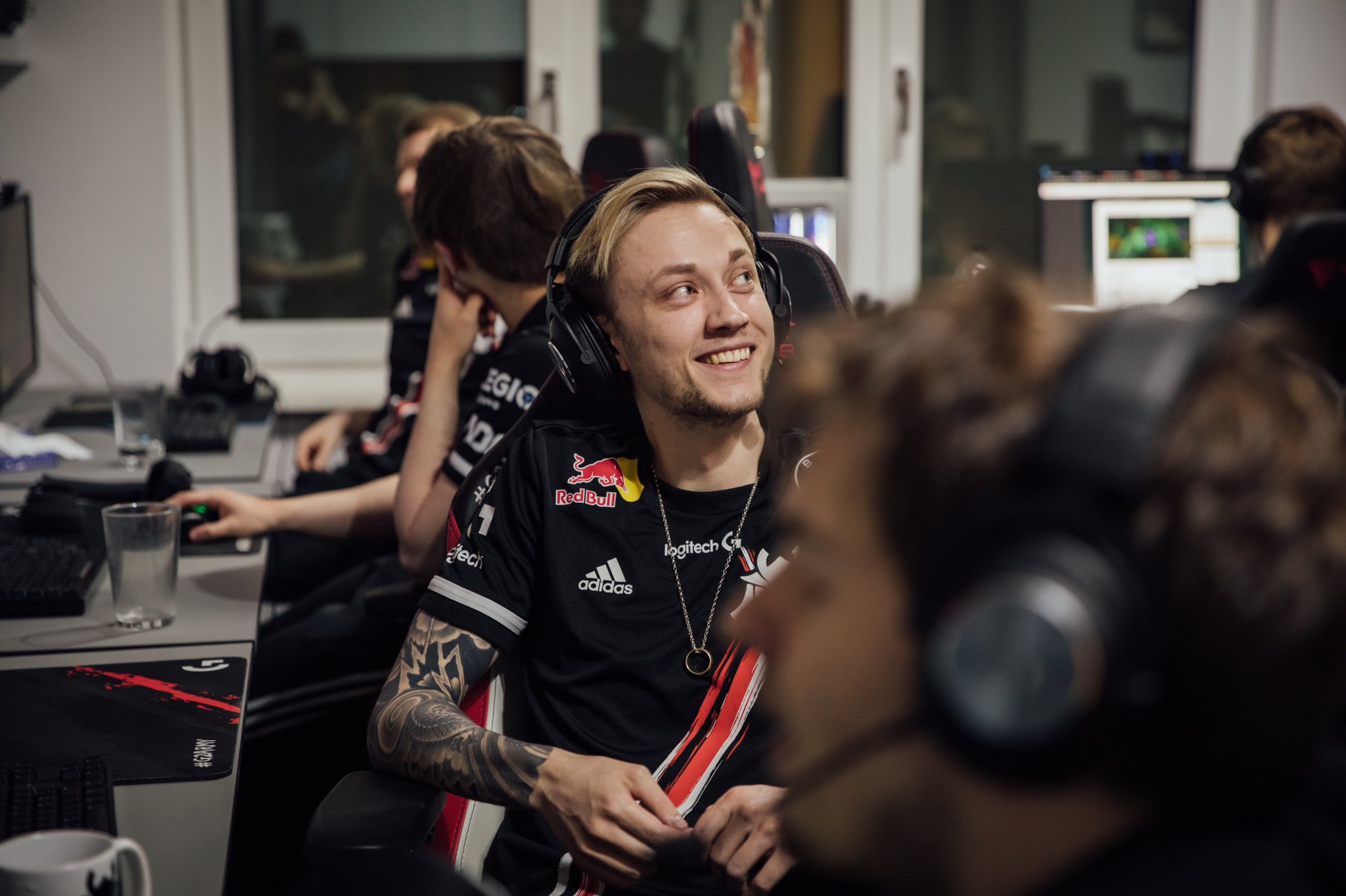 The last week (8) of the LEC 2021 Spring was played in patch 11.5, every team did their best to secure one last victory to improve their position but it wasn't going as planned for some teams.

Rogue finished Week 8 with a 2/1 score they had the chance to steal the first place but unfortunately, they lost to XL, which was surprising for most of their fans. Meanwhile, for G2 it was a strange week for them, It's like they gave a chance to Rogue but they didn't take it. G2 finished the week with 1/2 and it was a close one for them, they lost against both MAD Lions & XL but at the end of the day, they won against SK and secured first place. On the other side of the bracket, there is Fnatic who had a terrible week! A clean 0/3 against S04, Misfits, and Rogue! Is this a strategy by them knowing that they secured a spot in the playoffs? Or are they in some real trouble? We will know in the next upcoming days, let's take a look at the standings then we will jump to the 2021 LEC Spring Playoffs Bracket!
The final #LEC Regular Season standings!
1) #G2WIN (14-4)
2) #RGEWIN (14-4)
3) #MADWIN (10-8)
4) #S04WIN (9-9)
5) #FNCWIN (9-9)
6) #SKWIN (8-10)
7) #MSFWIN (8-10)
8) #XLWIN (7-11)
9) #ASTWIN (6-12)
10) #VITWIN (5-13)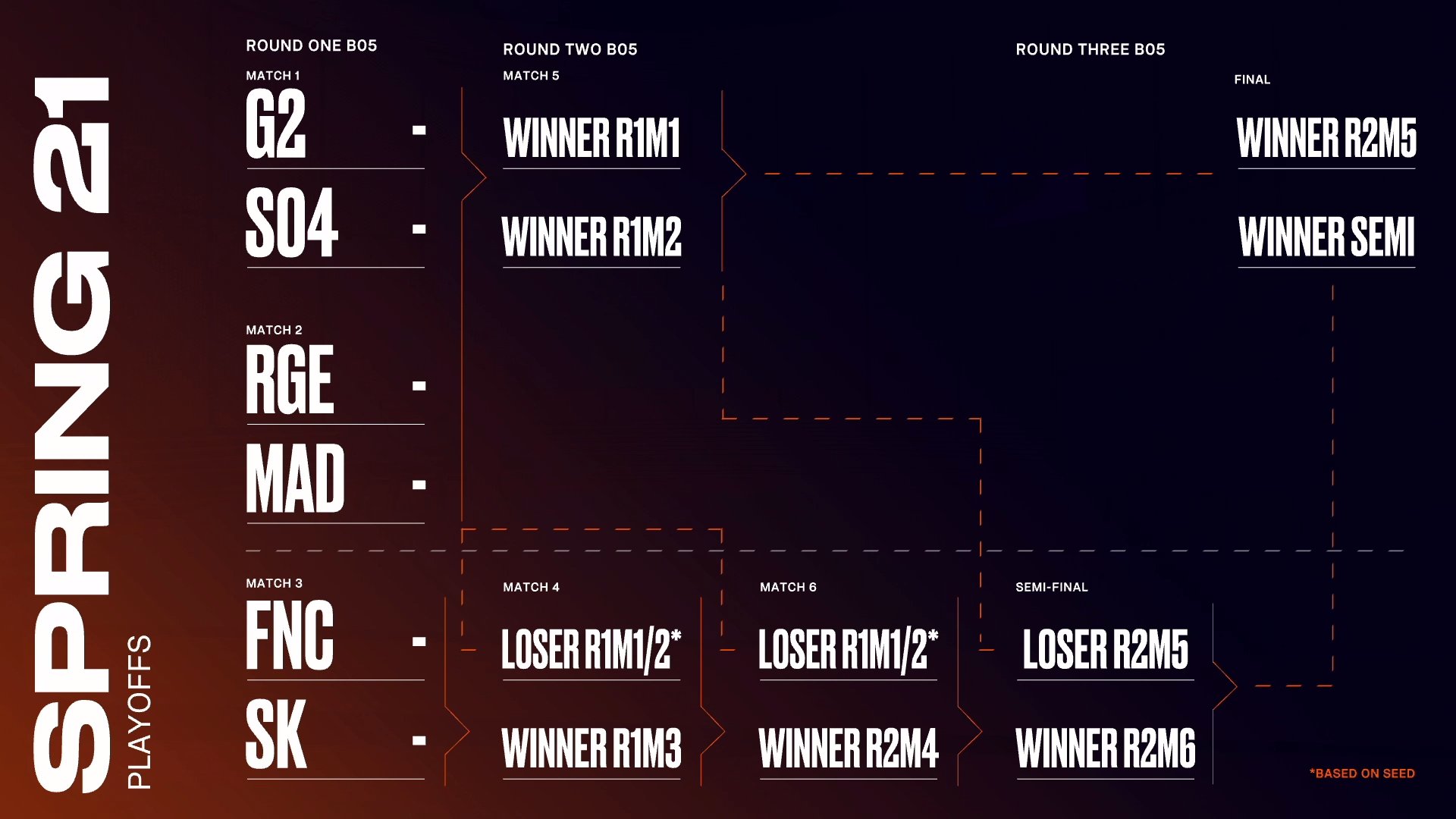 Schedule for Round 1 of Playoffs:
All the games will be intense and very close, the games will be best of 5. For those who have no idea about the "playoffs" let me write you a little introduction about it. The Spring Playoffs is where the top six teams from Spring compete for prize money and Championship Points. The top 4 teams play in the winner's bracket and 5th plays against 6th in the losers bracket, it's a double-elimination bracket. The winner qualifies for the 2021 Mid-Season Invitational (But since now it's canceled we have no information about it) and for the prize pool € 200,000 Euros are spread among the top 6 teams.
North America – LCS
The LCS 2021 Spring is finally over in this Week 6, Patch 11.5! Cloud 9 played well during this split and secured the first position, meanwhile, TSM is second with their huge come back and just after them we find Team Liquid holding 3rd and 100 Thieves 4th. The two last teams that qualified for the playoffs are the one and only Dignitas and Evil Geniuses a well-deserved qualification for them. Congratulations to Alphari on winning the MastercardNexus Player of the Week for week six of the 2021 #LCS Spring Split!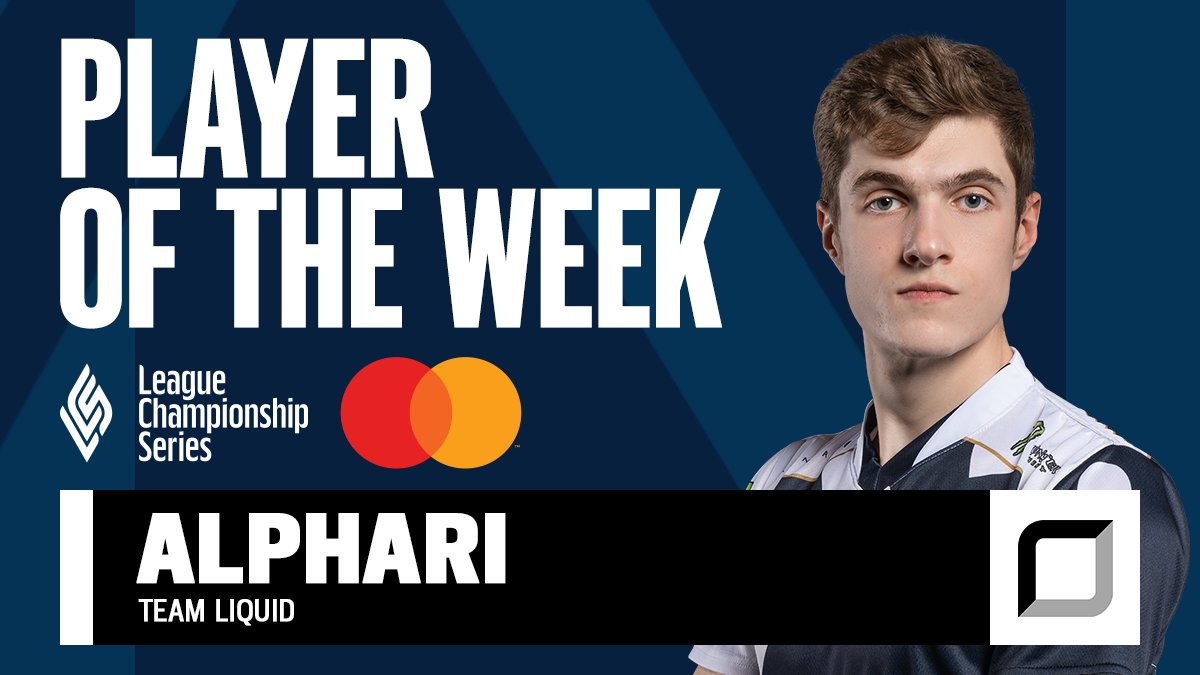 The 2021 #LCS Spring Split standings at the end of the regular season:
(1) #C9WIN (13-5)*
(2) #TSMWIN (12-6)*
(3) #TLWIN (12-6)*
(4) #100WIN (11-7)*
(5) #DIGWIN (11-7)*
(6) #EGWIN (10-8)*
(7) #IMTWIN (7-10)
(8) #FLYWIN (6-12)
(9) #CLGWIN (5-13)
(10) #GGWIN (3-15)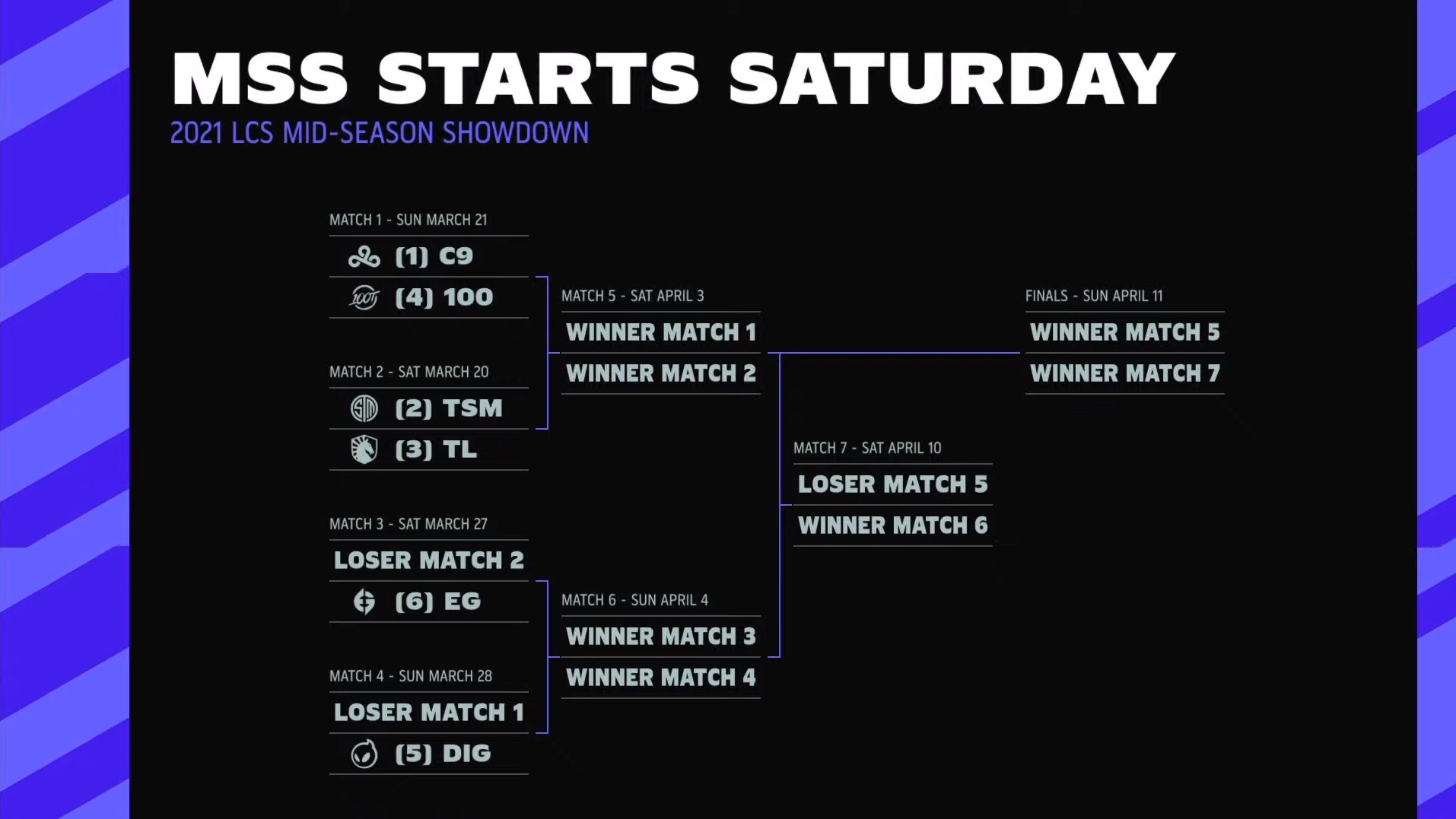 The 2021 #LCS Mid-Season Showdown bracket is LOCKED!
After that, the losers will face either EG for DIG in the Losers bracket. Be there and be ready because things are going down.
South Korea – LCK
The LCK is the origin of the former champions. DAMWON Kia is still looking strong and finished their split with a score of 14/1, their roster is determined to keep up this performance, just behind them we find GEN.G in second place but they were defeated in their last game against T1 with a clean 2/0. T1 finally showed their fan base the roster that everyone waited for and it really worked! They made it to the playoffs.
Here are the standings in the LCK after week 8! @DWGKIA secured their first-place regular-season finish, and there is only one spot left for playoffs!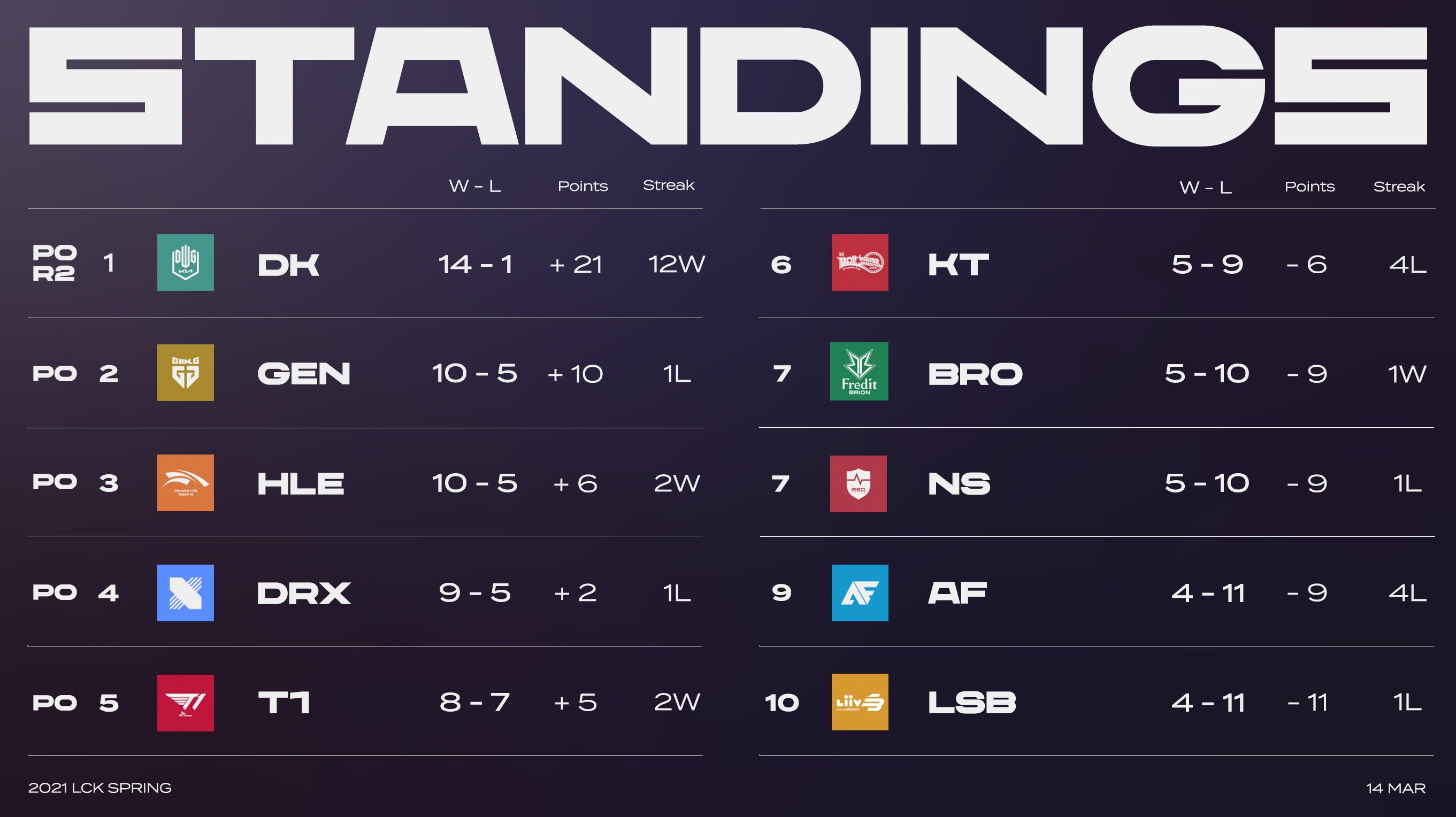 There is still one open place for the playoffs, but who will be the team that will secure it? I'd say that everyone still got his chance to qualify but KT will face a strong opponent in week 9 and it's Hanwha Life Esports, the teams that holding third place in the LCK, Fredit BRION are in a good position to get their 6th win because they will play against Liiv SANDBOX and NS will play against Afreeca Freecs which means that next week will determine a lot of stuff.
Let's take a look at the #LCK All-Time Games Leaderboard!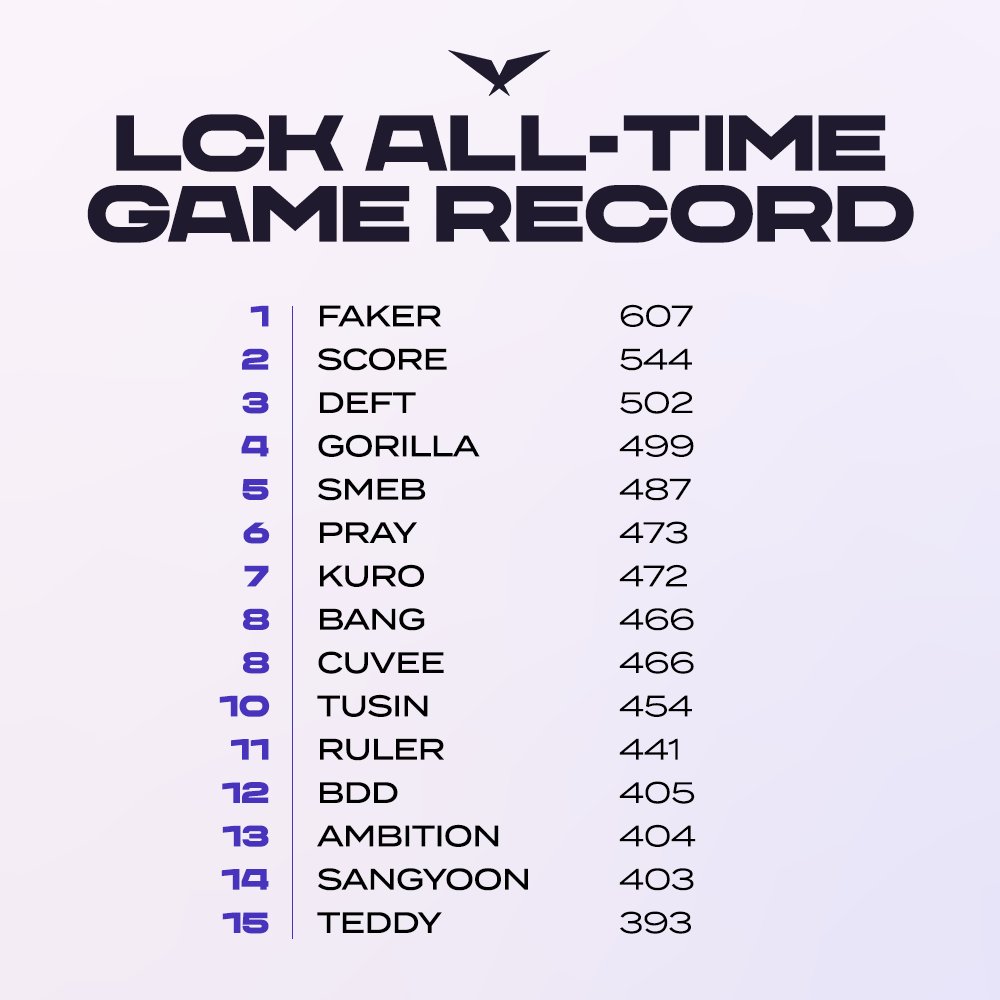 China – LPL
It's been a long time since we talked about the LPL but no worries, we will talk about everything to get you updated! Yesterday's games were interesting and not expected at all, Congratulations to Team WE for securing the playoffs spot.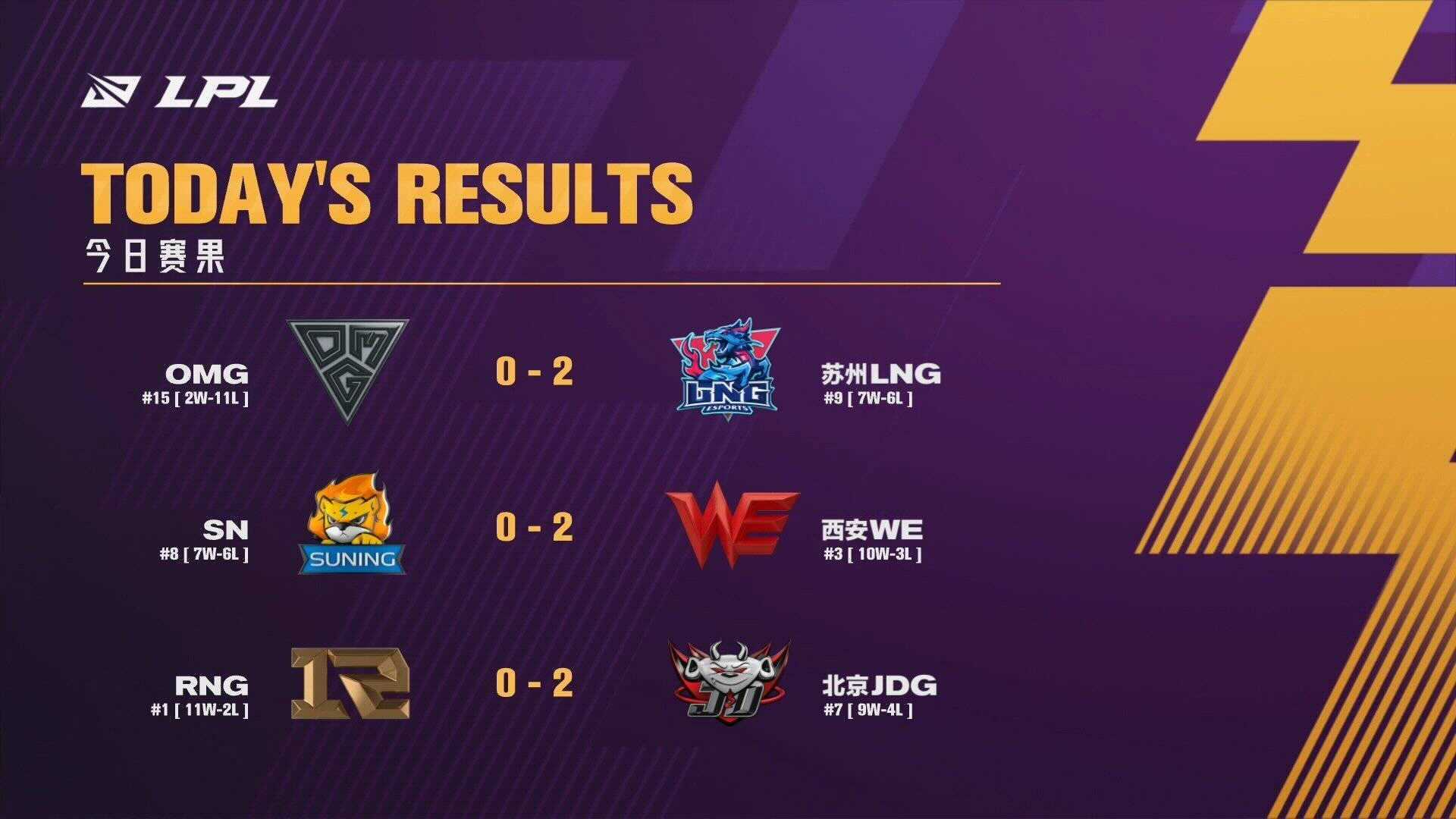 Team OMG lost to Suzhou LNG ESports, this match was expected by most of the LPL fans knowing how strong they were. It was a one-sided game but both teams did their best to keep up a good performance. Unfortunately, OMG is still struggling and not finding the best option to win and to perform well.
TeamWE entered the game against Suning with one goal in their head, and it's to win to secure a spot in the playoffs! And that's what happened, Congratulation to them. Suning is holding 8th place at the moment, they still have a chance to gain some positions.
Royal Never Give Up did not expect this defeat against Beijing JD Gaming It's their first loss in a long time but this isn't a big problem for them because they are still first place in this 2021 LPL team standings.
The 2021 #LPL Spring Split standings of the regular season: