Welcome to another edition of Monday News where I gather all the important information that you may have missed during the week! I hope you are ready because we have a lot to talk about, so grab a cup of coffee and let's get into it.
2021 Mid-Season Showdown Finals:
C9 vs TL: What an insane best of five! The finals were so exciting that it ended in five games, first game went in favor of TL with a clean comp, they were determined and motivated to take the first game but Cloud9 didn't let their hands down and did their best by taking the second game. Things were tense and everyone was stressed, but anyone could win and take the series to be recognized as the champions and that's what TL did in their third game, they played it perfectly and took the win. C9 was in a difficult situation where they needed two more wins and a loss could eliminate them and close the series. Unfortunately for TL, Cloud9 had a big plan, they had a secret weapon and a clean strategy. Perkz went all in this the last two games, with an insane early strategy by Cloud9 where they swapped bot and top and took the first blood, it made fans remember some good old days in season 3. It finally ended with the victory of Cloud9, a well-deserved one with a score of 3-2.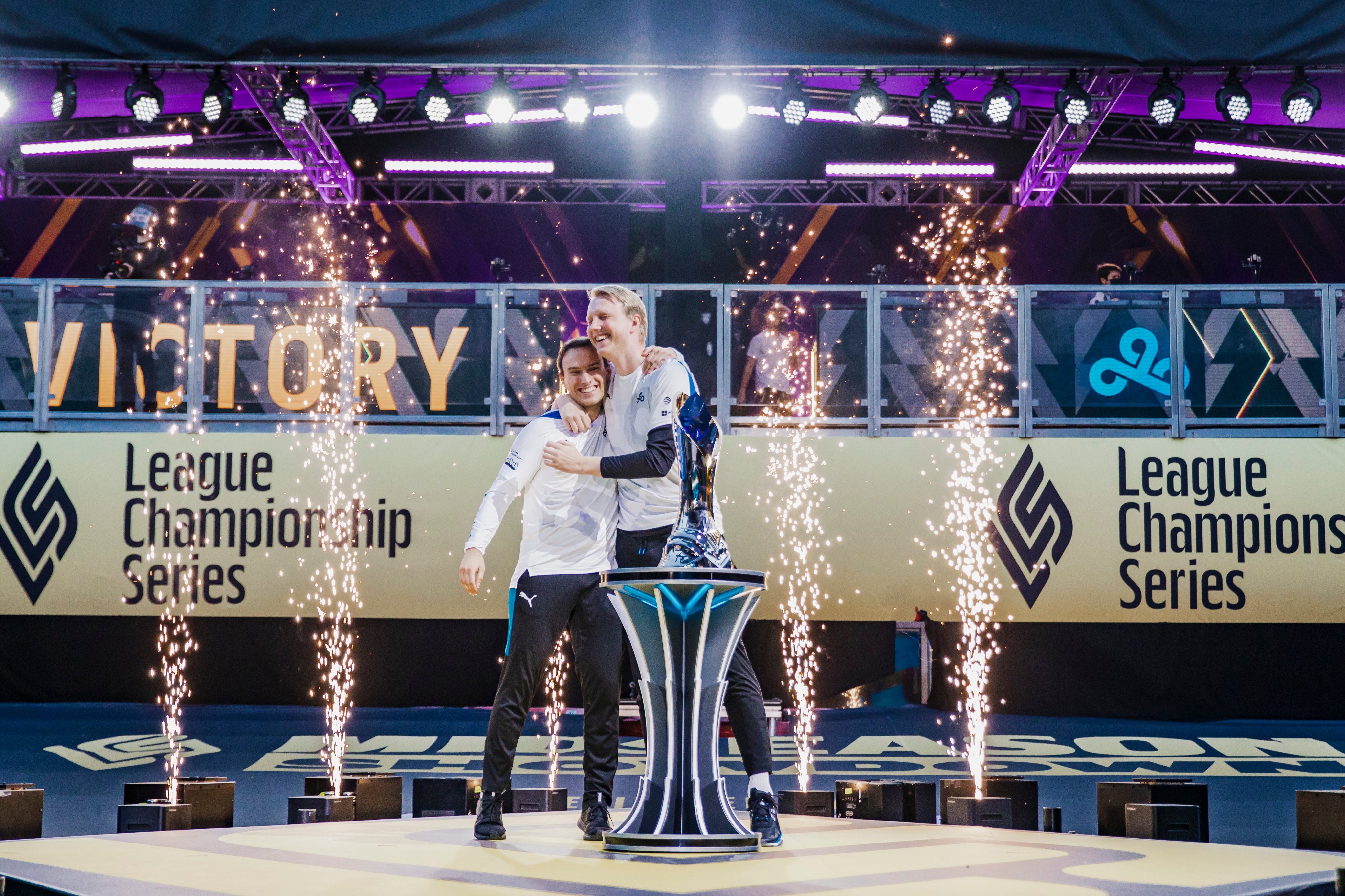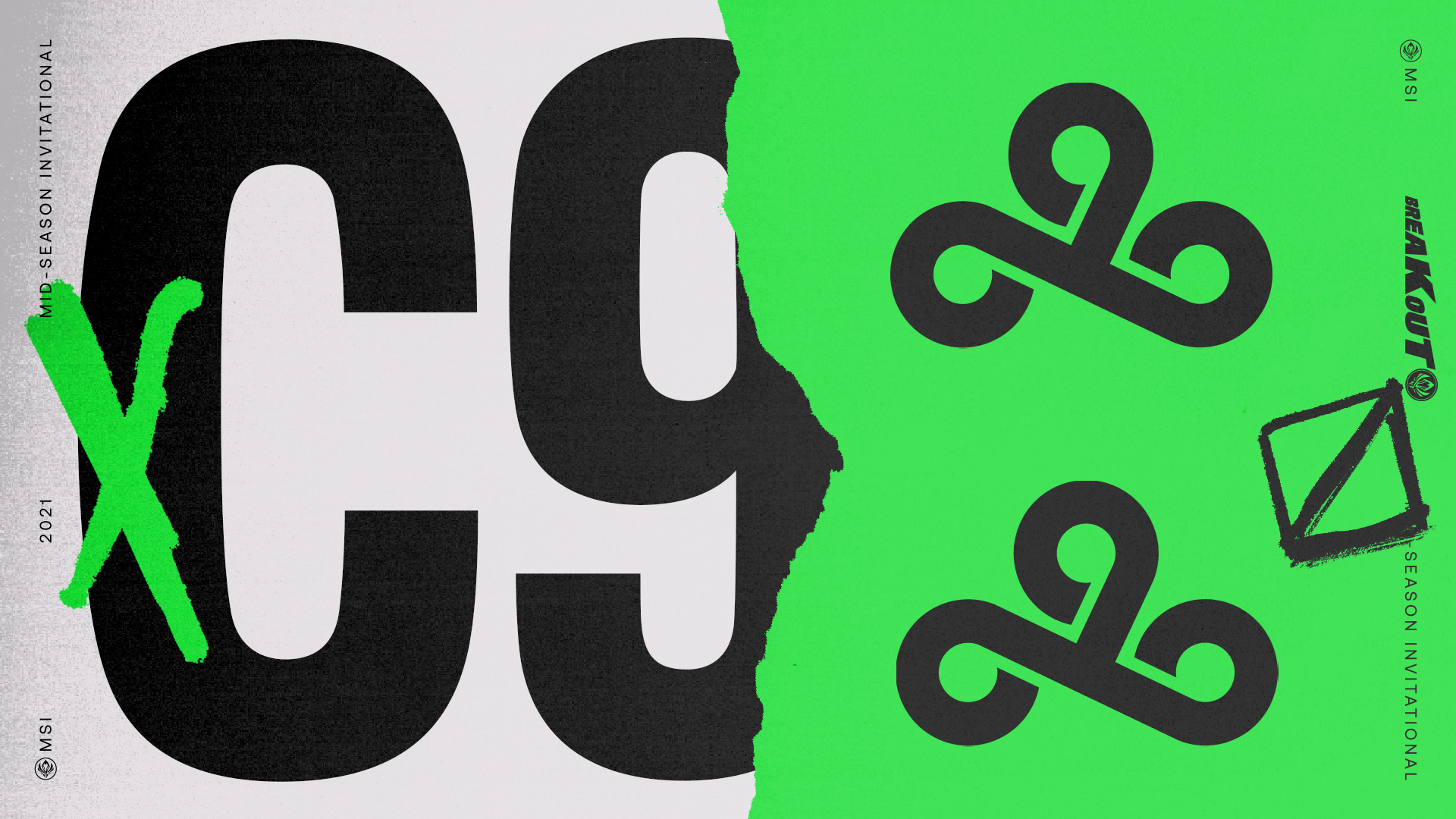 Congrats to the Player of the Series, @Cloud9 's mid-laner Perkz for being the player with the most MVP's, he stands first with 3 time MVP just behind him in the second position we have Alphari, Huni, Jensen & Ssumday who all of them shares this place with one time MVP.
LEC 2021 Spring Playoffs: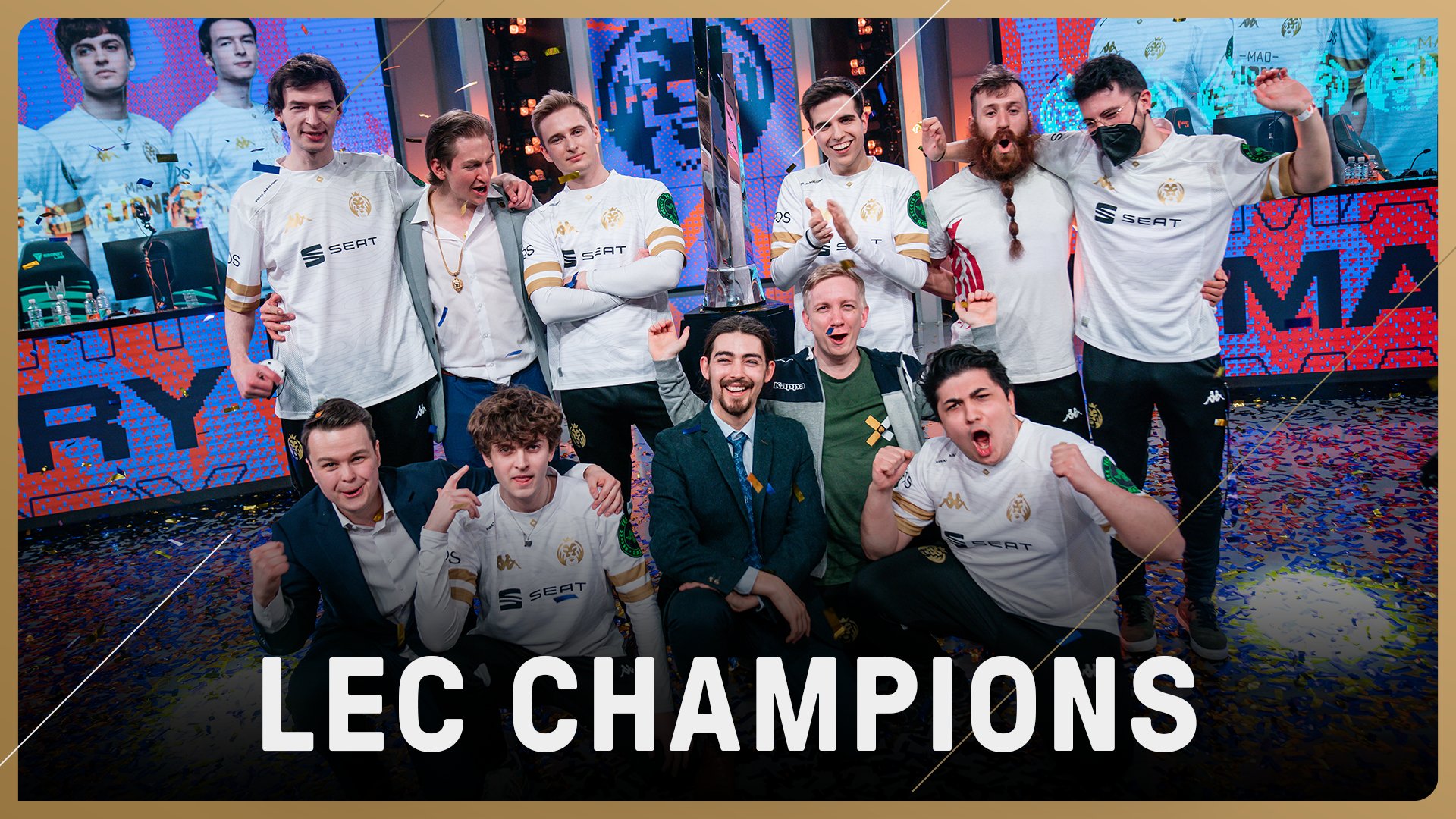 MAD vs RGE: What can I say about this game? It was one hell of a series between two legendary teams who will probably be the next G2 & Fnatic. Maybe this is already the end of a huge ERA and the start of a new one! After the disqualification of G2 Esports by the hands of Rogue with a score of 3-1 at the semifinals, Rogue went to the finals with one goal in mind and it's to win the whole thing and bring the trophy back at home. MAD Lions had a surprise for Rogue because they had enough time to prepare for both teams since they are the reason why G2 lost in the winner's bracket.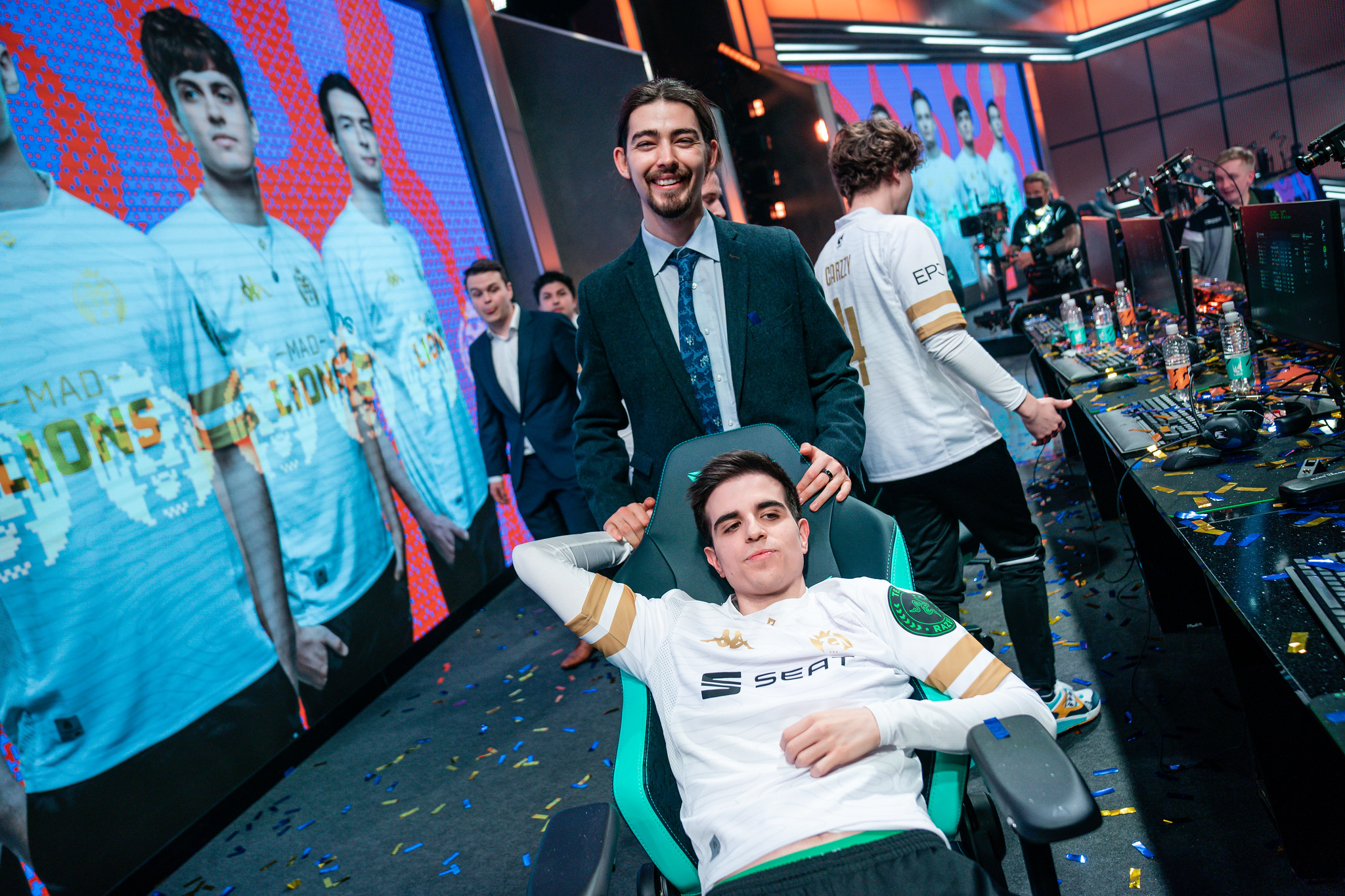 Rogue won the first and second game, they were really strong and gave their best they needed one more win to close the series and finish it clean with a 3-0 but MAD played the third game perfectly on the blue side, then the 4th & 5th game chose they decided to choose the red side and it worked, they did one of the greatest reverses sweeps in history, an unbelievable victory for MAD Lions congratulations to them and hard luck to Rogue, both teams are really strong but only one team will go to MSI.
MAD Lions finished 1st and won €80,000, just behind them Rogue in the second position with €50,000 and G2 Esports in third with a total of €30,000. Meanwhile, Schalke 04 took €20,000 with their 4th position and since Fnatic finished 5th they only took €12,500, and in the last position SK Gaming with €7,500.
LCK 2021 Spring Playoffs: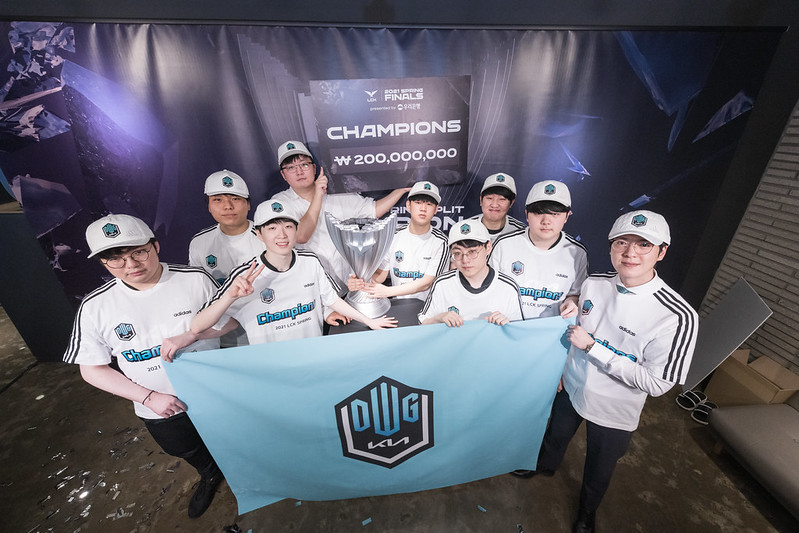 DK vs GEN: This final was kind of expected by everyone but the results were just pure stomp from DAMWON, a clean 3-0 for them which makes them the champions and the winners of this LCK 2021 Spring Playoffs, congratulations to them. The games were played by the book, huge props to their coaching staff, and the player's hard work. Everything was clear in-game, they were just the better team and you couldn't expect less from the world's champions.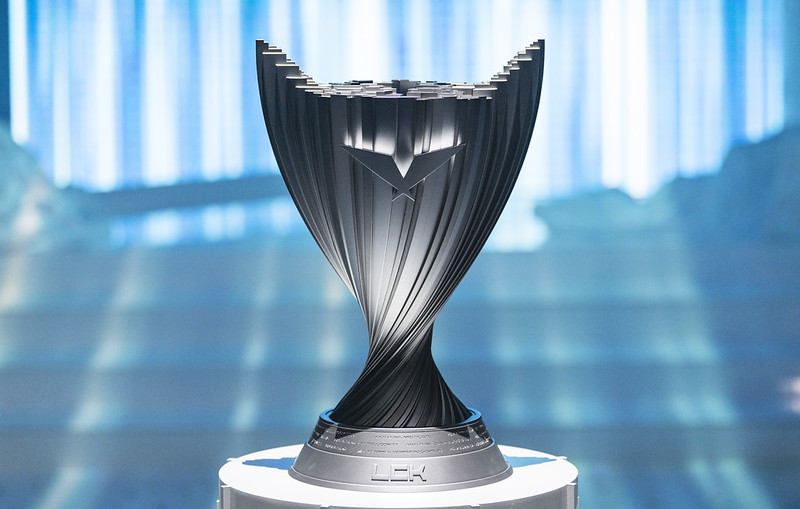 Hard luck to Gen.G, they finished this tournament in the second position, they also won a total of ₩100,000,000 meanwhile DWG Kia qualified to MSI 2021 and won ₩200,000,000. In the third position, we have Hanwha Life who won ₩50,000,000 and just behind them T1 with ₩25,000,000. DRX & NS RedForce didn't win anything since they finished 5th & 6th.
MSI 2021:
The 2021 Mid-Season Invitational (MSI 2021) is held between the first and second splits of all regions. The champions of each competitive region compete for the MSI title. 12 teams will be participating and Viego will be disabled during this tournament. We are still waiting for other regions to finish their finals but for now, we only have 6 teams and all of them are scary especially the LCK region.
For the LPL 2021 Spring Playoffs, the games are still going on but FPX already secured a spot at the finals. They sent RNG to the loser's bracket and won in the semifinals against EDG with a score of 3-2. RNG & EDG are both gonna face each other and fight for a chance to get their revenge on FPX at the finals and qualify for MSI 2021.
MENA News:
Let's talk about the Intel Arabian Cup, KnockOut Esports are strong this year they are currently holding first place with 15 pts, just behind them, there are Anubis Gaming, Fox Gaming, and Galaxy Racer Esports who are all sharing second place with 12 pts. Cut Esports was holding first place last week but it didn't last long, they faced strong opponents and finished the week 0-3 but no need to worry, anyone can get to the first place because everyone still has his chance.
Summon Aery and Armoured Brothers are battling at the bottom of the bracket with 6 pts but it seems that AMB finally figured out how to make their roster work 6 pts are better than nothing. Talking about nothing we have Siren eSport how is struggling with 0 pts, let's hope they can figure out their situation and grab some points from other teams before the end of the season.